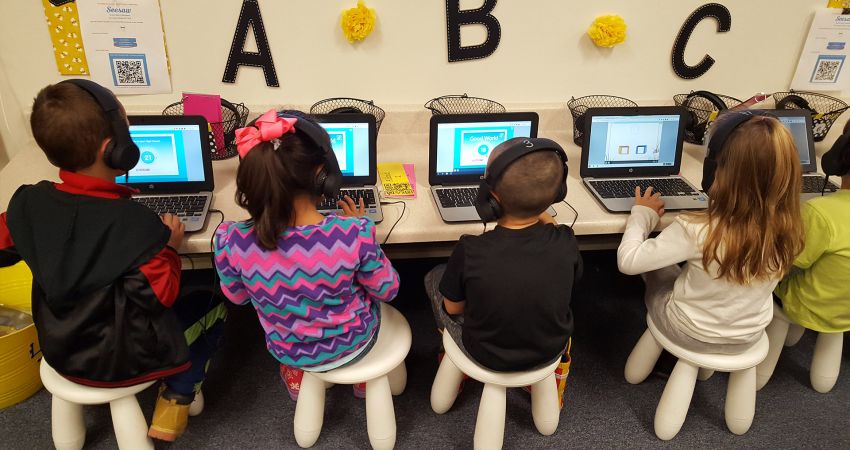 Toward the end of October a team of educators from Galt, California, a rural community on the outskirts of Sacramento, traveled to Kentucky to attend the Fire Summit on October 25. The Kentucky Valley Educational Cooperative (KVEC) and Galt Joint Union Elementary School District (GJUESD) both have received US Department of Education Race to the Top grants to work with historically underserved areas and share a vision for education, specifically personalized learning, in rural areas. On November 14, a KVEC team traveled to California to meet with the Galt school district in the hopes of forging a national partnership.
The KVEC team toured three schools, Valley Oaks Elementary School, Lake Canyon Middle School and McCaffrey Middle School talking with Principals and Teachers about the splendid work they are doing in classrooms. The schools featured studios and maker spaces where students build robots, program circuits, tend gardens, raise chickens and work with video equipment. One school even implemented a Harry Potter-like system of "houses" where students would be assigned to a house during enrollment and earn points throughout the course of the week. Every week a flag would be raised denoting the winner of the previous week, instilling an atmosphere of competition that encourages students to work harder to win the next week.
Over the course of the visits, the KVEC team observed kids produce high-quality video broadcasts, work with NASA on a micro-gravity experiment, utilize new equipment in entrepreneurial initiatives and even hatching Salmon eggs with lessons on nature conservation. The team was also graced with a trip to the Cosumnes River Preserve where students come throughout the year to plant trees, clean up trash and explore the local flora and fauna that make Cosumnes unique.
Cosumnes River Reserve
NASA Micro-Gravity Test Samples
Lake Canyon students learning about salmon
Salmon Eggs
The reciprocal visits between the two educational partners have resulted in strategic planning for networking around specific initiatives including STEM, The Holler and Innovation Grants.