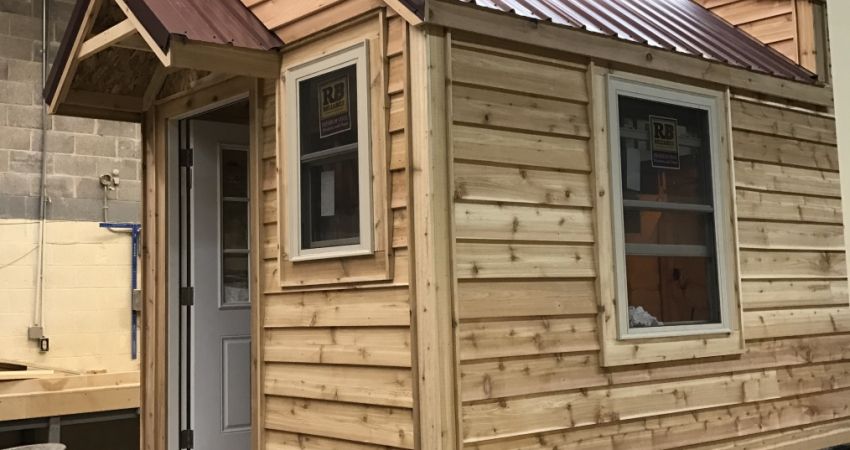 Students at Phelps Technology Center realize that their carpentry class has been more than just a class.  According to Dakota Whitt, junior, he has "learned a little bit of everything…from putting on tin, siding and just about anything you can think of".  He also comments that the class "helps him listen and pay attention.  If you don't pay attention, you could get hurt.  It has made me aware of my surroundings".  He is excited about having the class in a three hour block next fall and being able to help new students coming into the class.
The tiny house project, sponsored through a grant received by Kentucky Valley Educational Cooperative, has given regional students opportunities they never thought they would have in their technical classes.  Chase Adkins, senior, is adamant that he has "learned a lot more than I would've anywhere else.  It's the best class at school.  I've learned some math skills…I didn't know how to read a tape measure until I got in here".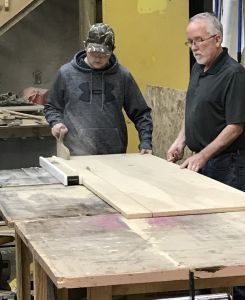 The carpentry students are already utilizing the skills they have acquired in the real world.  Chase is helping his parents build a house.  Kayla Cisco, senior, has assisted her dad in constructing a small building and has created other small projects, including a bird house.  Kayla is one of four girls involved in the project and says she has enjoyed learning the measurements on a ruler, nailing siding, sawing lumber and other tasks required for the construction of the tiny house.
Don Page, carpentry instructor, relates that three of the students are interested in a career in the carpentry profession.  Mr. Page has received donations from community businesses for the cedar siding and other materials used in the tiny house construction.  Without the donations, he states that he could not have stayed under budget on the project.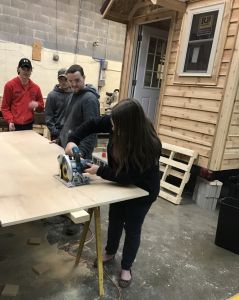 The tiny house will be moved from the Phelps Technology Center to the Expo Center in Pikeville on April 11, 2017.  It will be available for viewing through the evening of April 12, which is the date for the KVEC Fire Summit.  This building, along with two other tiny houses constructed by students in the region, will beput on public auction beginning at noon on April 12.