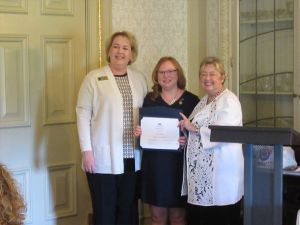 May is a time of celebrating the many wonderful things going on in Reading Recovery/CIM at KVEC. With the recent retirement of Donna Singleton, Pam Slone came aboard the Reading Recovery team at KVEC.  She has completed an intense year-long training at the University of Kentucky Reading Recovery Training Center. Completion of this training certified her as a Reading Recovery Teacher Leader. Her training was sponsored through a scholarship from MaryRuth Books and author Mia Coulton.  On May 2, 2018, she was given her diploma at Spindletop on the UK Campus, by Dr. Judy Embry and Dr. Lindy Harmon. Mrs. Christy Hicks, a Teacher Leader at KVEC was also given her certificate for completing a year-long training in the intervention, Comprehensive Intervention Model, (CIM), presented by Dr. Harmon and Dr. Embry.  Donna Singleton was also honored for her 13 years of service as a Reading Recovery Teacher Leader at KVEC. She has a total of 32 years as an educator in Eastern Kentucky. We are so thankful and blessed to have worked with such an inspirational teacher leader and friend.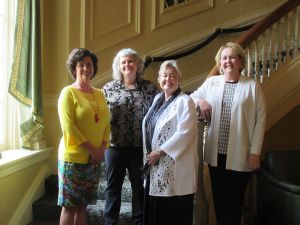 Our latest celebration involves the completion of Reading Recovery training by nine of KVEC area's teachers.  Danna Duff, Teacher Leader at KVEC has been training these teachers since early August. The training was a year-long event.  They have worked diligently to learn the best reading strategies behind Marie Clay's Literacy Processing Theory and studied Literacy Lessons Designed for Individuals, 2nd Edition.  Teachers have taught Behind-the-Mirror lessons, while the others in their training class watched and responded to a discussion led by their Teacher Leader, Mrs. Danna Duff. Danna comments, "This group is very hardworking and is among one of the best I have ever seen."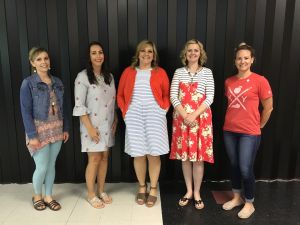 Teachers in the group include April Arnett, Margaret Blanton, Leslie Burke, Jessica Caldwell, Michelle Caldwell, Becky Gabbard, Glenna Mayabb, Melissa Moore, and Breann Patrick. Along with the Reading Recovery teachers, there were six Comprehension Intervention Model, (CIM)* teachers in training who received their CIM interventionists certificate.  These teachers have been working with small literacy groups to be certified in CIM and were trained by Teacher Leader, Christy Hicks. Those teachers included: Kristal Combs, Mary Dennison, Leah McWhorter, Rachel Turner, Kimberly Stubblefield, and Donna White. Congratulations to all the graduates!
*Comprehensive Intervention Model is an intervention providing literacy instruction in small groups.  It was designed by Dr. Linda Dorn from the University of Arkansas at Little Rock.