KVEC's FireCast Minisode is a new 3-5 minute video production highlighting classrooms innovations that are forging a new path for learning that could lead to a new economy in Eastern Kentucky.
Mike Bell from Allen Elementary, along with his students, are creating original plays as well as technology. The two entities are then combined to create a seamless and unforgettable journey for both the audience and those involved in it.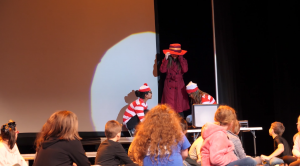 Students and staff teamed up to create the original play called "Where in the World is Carmen Sandiego" which was based off a computer game from the early 90's. The story follows a set of twins as they try to capture Carmen Sandiego and put a stop to her before she can steal any more monuments like the Statue of Liberty.
When the students aren't busy creating plays and practicing they are hard at work at developing their STLP projects. These projects can range from a radio broadcast at the school to building drones from recycled materials.  One of the projects involved was a board that relayed haptic feedback with a word or sound for this particular play it made karate sounds.
"We don't want students to just be involved, we want them to be invested." – Mike Bell
They plan to continue developing both original plays as well as award-winning STLP projects at Allen Elementary. If you would like for your school to be involved with FireCast or a FireCast Minisode be sure to fill out the application through the link below.