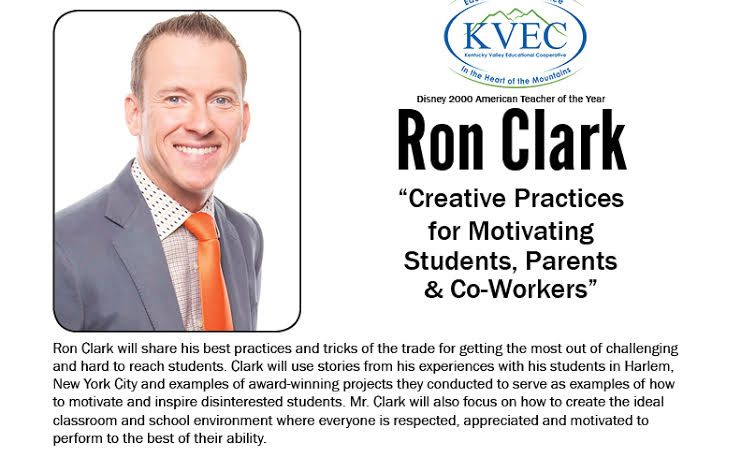 Registration opened this morning for the July 31st KVEC Renaissance Academy event with Ron Clark. The Mountain Arts Center limits attendance to 1,000. There is no charge for educators from any KVEC District. A LIMITED number of seats are available to educators outside of the Kentucky Valley Educational Cooperative (KVEC) region for $100 per registration. Educators outside of KVEC should bring PO or check with them on July 31st and submit at the registration table. Credit cards are not accepted. Information about the event can be found below or in the attached flyer.
Tuesday, July 31st
8:30-10:00 am Keynote
10:00-10:30 am Q&A
10:30-11:30 am Book Signing
Mountain Arts Center Prestonsburg, KY
Ron Clark is an American educator who has worked with disadvantaged students in rural North Carolina and New York City and founded the Ron Clark Academy in Atlanta, Georgia and is a sought-after motivational speaker on the topic of inspiring educators
Ron Clark has been called "America's Educator." In 2000, he was named Disney's American Teacher of the Year. He is the New York Times bestselling author whose book, The Essential 55, has sold over 1 million copies and has been published in 25 different countries. He has been featured on The Today Show, CNN, and Oprah, and Ms. Winfrey even named him as her first "Phenomenal Man." His classes have been honored at the White House on three separate occasions. Ron's teaching experiences in New York City are the subject of the film, The Ron Clark Story, starring Matthew Perry.
Interested in making July 31st a FULL DAY of Professional Learning?
Join us at Big Sandy Community and Technical College from 1:00–3:30 pm for your choice of the following sessions:
Making Learning Real: How a classroom maker space can engage students in your content
Presented by: Dr. Katrina Slone
The Reading/Writing Connection: Grades 6-12-College and Career Success for all students
Presented by: Carole Mullins, NBCT, and Kim Sergent
K-5 Math Strategies
Presented by Vonda Adams and Stephanie Kidd
Registration required to attend
Have a Professional Learning need? Let KVEC know and our staff will strive to meet your needs!