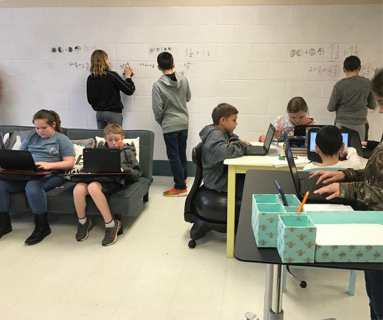 Salyersville Grade School has embarked on a student centered classroom redesign, and students in one SGS classroom now have a space conducive to collaborative learning. This student-centered classroom was designed in an effort to maximize learning space, increase student engagement, and address the need for energy expenditure.
Dry erase paint has allowed students to work on what was once wasted wall space. Students can now move freely alongside each another while participating in open collaboration and communication during math practice. In addition to dry erase paint, nontraditional student seating was purchased as part of this classroom redesign. Students now have the option of sitting at a dry erase table with stability ball seating, on a sofa, or in a butterfly chair. For students who do not want to sit, a standing desk provides another workspace option.  Traditional student desks are also available for students who enjoy customary seating.
As a result of these changes, students are much more eager to enter the classroom and choose their seating for the day. Students have expressed their appreciation for this change, and teachers have noticed an increase in student focus and improved behavior.
Mrs. Tara Howard was awarded the Learning Innovation Grant through KVEC and ARI to help fund this project.
Submitted by Angela Skaggs, District Innovation Coordinator
Magoffin Co. Schools