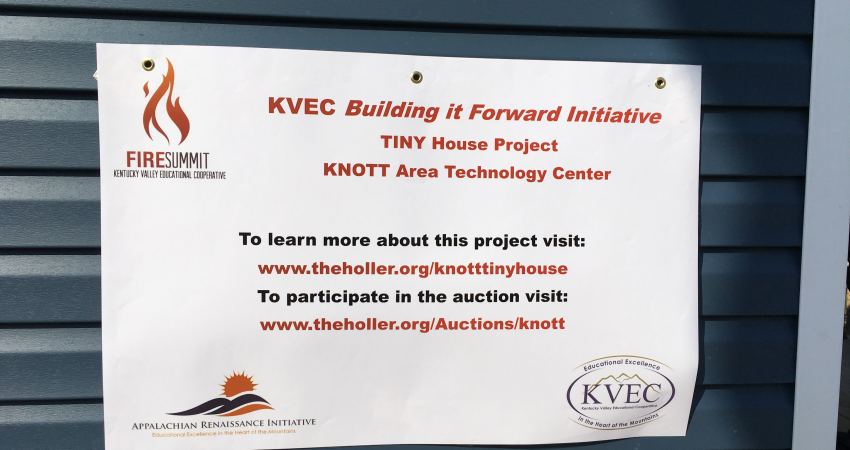 Students at three area technology centers have worked diligently throughout this school year to construct the first student-built tiny houses in eastern Kentucky.  Their efforts are literally "paying off" as bidding continues at https://www.theholler.org/auctions/
Each tiny house is unique and has its own distinguishing characteristics.  Through funding received from KVEC for the project and donations from many local businesses in the counties, tiny houses were constructed at Knott County ATC, Lee County ATC and Phelps ATC in Pike County.
KNOTT COUNTY TINY HOUSE
The tiny house built by Knott County students has the following traits:
Dimensions: 23 feet long (18 ft. trailer), 8.5 feet wide and 13 feet 3 inches tall. (230 square feet of living space)
Exterior: Vinyl siding with metal roofing
External: Tiny house trailer frame with leveling jacks at corners and a folding rear porch
Interior: Laminate flooring throughout, LED lighting throughout, custom built Red Oak cabinetry with ebony stain and recessed area for a queen size mattress
Bathroom: 32 inch shower with temp sensing shower head, water saving commode and medicine cabinet with LED makeup light ring
Kitchen: One touch kitchen faucet with extendable spray head, refrigerator, microwave, 2 burner induction cooktop and 55 cubic feet of storage space
Mechanical: On demand water heater, 200 amp service panel, heat/air conditioning unit with remote
Technology: 43 inch Vizio smart TV and a BlueRay DVD player.
Storage: 42 cubic feet of storage space upstairs, 30 cubic feet of storage in stair drawers and 55 cubic feet of storage space in kitchen; kick plate storage drawers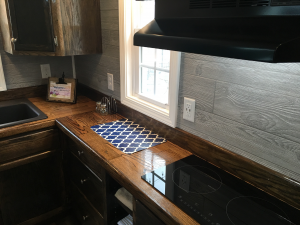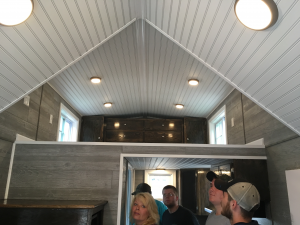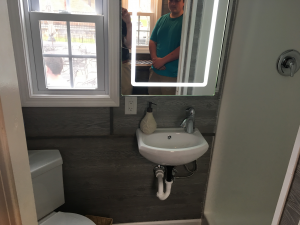 When interviewed, one student in Knott Co. who worked on the project stated, "If I had the money, I'd buy it".  The students reflect on how "they had all kinds of plans but they got changed every day".  They believe this construction is "worth doing every year".
To view a video illustrating the construction of Knott County's tiny house, click on the link: https://www.youtube.com/watch?v=FlDujk6rXO8&feature=youtu.be
LEE COUNTY TINY HOUSE
Students attend the Lee Co. ATC from three different counties: Lee, Owsley and Wolfe.
Lee County High School students were involved in the designing of the house in their engineering class.  By using a 3-D model computer program, one student explained that "we tweaked the design about six times before we could say this one is golden and it's the one you see right now":
NOAH Certified (National Organization of Alternative Housing)
Dimensions: Gator made 20 foot trailer, gross weight 14,000 pounds and Roger's windows with argon gas. 160 square foot main floor and 40 square foot loft
Exterior: 2×4 wood construction, outside security lights and outlets
Interior: Gray wood finish laminate floors, bead board wall finish, recessed lights, ceiling fan
Loft: Laminate flooring and aluminum ladder
Bathroom: Full size commode, shower, ceramic tile and vented light fixture with heat
Kitchen: Laminate countertops, on-demand water heater, refrigerator, convection/microwave oven, sink and portable induction 2 burner stove top
Insulation: R 21-Ceiling, R 24-Floor and R 15-Walls
HVAC Unit 12,000 BTU  17 Seer rating
Storage closet
Optional Features: Black futon, table with chairs, side table, curtains with rods and bathroom shelving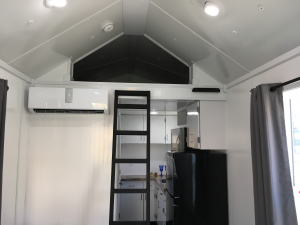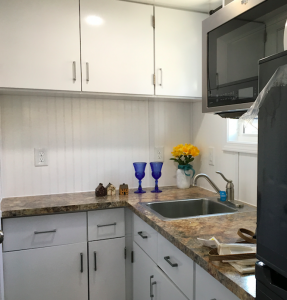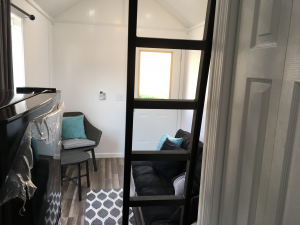 One Lee ATC student remarked that "this has been so much fun; I'm going to miss it next year".  Another commented that "this has been a very unique learning experience; had a lot of ups and downs, but it's been fun".
For more "Tiny House Talk" from Lee Co., click on:
http://tinyhousetalk.com/student-built-lee-tiny-house-auction/
PHELPS TINY HOUSE
Phelps ATC students in Pike County say they have "learned just about everything you need to know working on this tiny house".  Through this invaluable hands-on experience, they have constructed a tiny house that possess these attributes:
Dimensions:  8 feet wide, 20 feet long and 12 feet 10 inches tall
Exterior: Cedar siding, with burgundy metal roof
Bathroom:  Fiberglass shower, vanity, and compost toilet
Kitchen: Stainless steel sink, 2 burner cook top stainless, stainless steel microwave, stainless steel refrigerator freezer and custom cabinets
Sleeping loft: 7'x 7′ with custom staircase matching kitchen cabinets
Setting area: Futon couch, ceiling fan, waterproof engineered wood flooring, natural wood planks for interior walls with cedar trim around windows and doors
Mechanical:  Mini Split Unit Heat pump, 110  13 amps (remote control) all electric 50 amp service with 25′ chord
Insulation: Closed cell spray foam insulation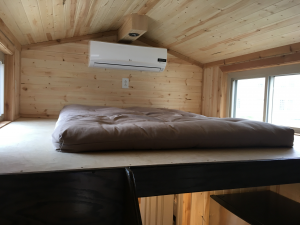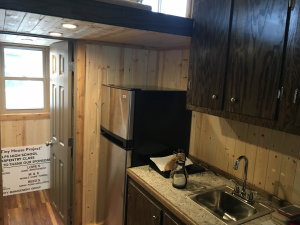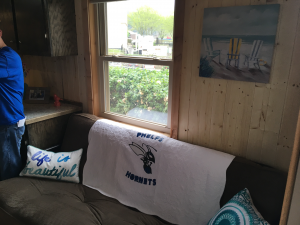 Not only did the students at Phelps construct a sturdy tiny house, they also learned a lot of practical skills in the process.  One student stated, "I learned some math skills; didn't know how to read a tape measure until I got in here".  Also relating to math skills, a student said, "Measurements used to confuse me all the time…now I've about got it down".
Another young man realizes that it has helped him listen and pay attention, because "if you don't pay attention, you could get hurt".
Bidding will be open until noon on June 12, 2017.  After the completion of the auction, the winner will receive a notification email. If the winner fails to respond or is unable to provide payment, the second highest bidder will be contacted. Buyers will have to pick up the houses personally using a vehicle with a tow hitch after payment. Buyers are responsible for the safe transport of the houses to their final destinations and all sales are final after the houses are picked up. KVEC is not responsible for incidents that occur during transport of the houses and will not accept returns after the houses have left the lot.
After the auctions have concluded, the base $15,000, along with 80% of the amount above that, will be going back to each of the schools for the next build.  In addition to these three ATCs building tiny houses next school year, five other locations have applied and been chosen to create and construct their own tiny house designs.