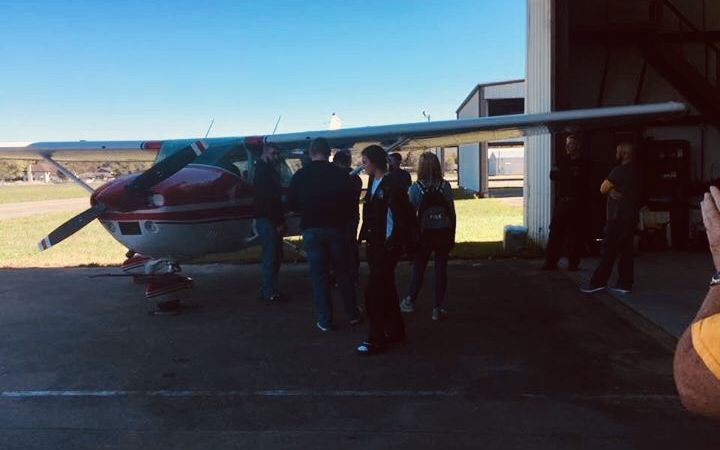 Middlesboro High School teacher Luke Gilly is sharing his fascination with space travel and the universe in his teaching preparing his students for possible careers in aviation and aerospace.
After teaching math for 10 years, Luke had an opportunity to train to be certified to teach engineering. "So I attended courses at UK and Duke and added two engineering endorsements. It was at this time that I was introduced to the National Air & Space Institute and was able to teach their curriculum for a couple of years," Luke explains.  "I have always been absolutely fascinated with space travel and the universe in general as well as the physics of flight and the design of aircraft. When I was presented the opportunity to work with aviation it was a no-brainer.  As an educator, it has always been my passion to teach through hands-on instruction using project-based learning. To me, there is no better way to introduce young people to practical application of science than through aviation and the space program."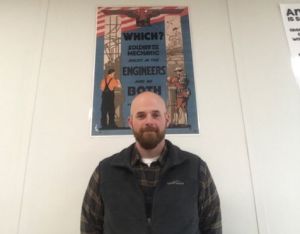 Luke is engaging his students in an ambitious project-based learning experience which has varied elements.  In this cooperative comprehensive project, students from various courses will complete a rocket launch and recovery mission.  Spanning across multiple curriculums, students will display and apply working knowledge of science, technology, engineering, and mathematics.  Students from grade levels 9-12 in the engineering and aviation pathways have been teamed together in various task groups and given individual missions to complete the overall agenda.  
Luke states that the project launch date will be chosen by the chief engineer (CE) from data contained in the report received from the meteorology team.  A matrix will be created and placed on the wall inside the labs that shows the expectations and gives deadlines to each team for the expected task.  The CE will review progress daily and report weekly to the administration/instructor.  On the day of the launch, a representative from each engineering team will conduct a briefing with the CE and present a report of their team's work.  The CE will be in charge of "stamping" each objective and approving the launch based on his/her expectations.  The CE will determine an exact launch time and each team will man their stations.
On the time given by the CE, the project will kick off by an automated robotic rocket launch.  The robot will be monitored for malfunction from inside the control station using footage from Drone A.  Team A from inside the control station will control drone A.  Once the rocket has left the ground, Drone team B will monitor the rocket in flight to ensure the objectives of the rocket engineering team are met and to confirm the landing zone.  The logistics team will then communicate the relocation of Drone A to monitor the movement of the recovery team.  The recovery team use data feed on Drone B to get to the recovery zone and back undetected.  Communication between each of the 8 teams will be conducted using ham radio.  
After the mission is complete, the engineering teams will conduct a debriefing and discuss the role of each crew.  A data report will be created from mission reports presented by each team.  A discussion will occur about what went well throughout the mission and recommendations will be made for improvements.   The team will be given an overall score/grade by the CE.  Finally, the team will compile all notes, sketches, images, video, documentation, research, etc. into an engineering brief.  The CE will then present the final results to the administration with a copy of the brief.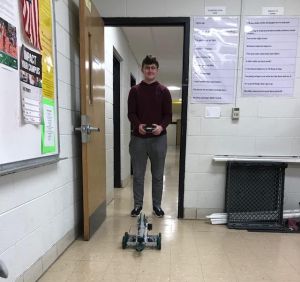 Luke summarizes the  key eight project requirements as (1) Robotic Rocket Launch:  Students will build a robot to detonate the rocket launching device; (2) Rocket Design (CAD Operators): Students will construct a rocket, experiment with design variations, different foils, and determine the most reliable device; (3) Map Coordination/GIS:  Students will create maps using Garmin Basecamp software and communicate locations and plans to each engineering group; (4) Drone Operation:  Students will demonstrate proper drone operation, produce video for operation in control link, and demonstrate proficiency in unmanned aerial system safety; (5) Meteorology: Students will maintain past records of weather forecasts and examine for accuracy to choose the most accurate weather prediction agent.  Students will use determined means to predict weather, produce a flight plan, and set a launch date and time; (6) Drone Build:  Students will build a drone using components in the furnished kit capable of virtual reality operation and communicating visual feed to the control room; (7) Communication: Students will use ham radio to communicate between engineering teams throughout the mission; and, (8) General Contractors:  Students will perform tasks required and dictated by engineering teams including but not limited to: designing staging platforms, setting up equipment, running necessary electrical wiring, and clean up.
Luke also has an ambitious plan to get his students certified on the technician level in HAM radio. Which is very helpful in aviation and aerospace careers.   "I have one student who is already certified and he is currently working on his General license," Luke explains.   "We currently use the radio frequency to communicate regionally and are hoping (when the weather breaks) to get our other antenna up and intercept transmissions of the International Space Station this spring.  My students are currently researching modern uses for ham radio in the workforce and learning about hobbyist as well as we go.  We applied the radio to the project attached to give students an understanding and practical application of it uses.  I am currently looking for grants to purchase the needed HF transceiver and antenna to reach global communication from the classroom so that our students can communicate with other parts of the world through our school radio club N4MHS. As my students obtain their license and begin practicing communication we will begin to listen to air traffic communication to help the students make the connection to aviation."
Faculty at the highly regarded Morehead State University Space Science Center tout the importance of teaching ham radio and radio frequency for careers in space.
 The love of space and aviation resulted in getting Luke into the classroom. "I went to Emory & Henry College with an intention of going to law school. I wanted to find a way to serve and help people. I ended up majoring in social science and was minoring in mathematics and when I decided that I might like education (my mom is a teacher). So I gave it a try and completed the coursework that I needed to teach math, history, and social science. I later earned my Master's degree in education administration at Lincoln Memorial University before getting certifications in engineering," Luke adds, "I am excited to help my students prepare for these exciting careers in science and technology."