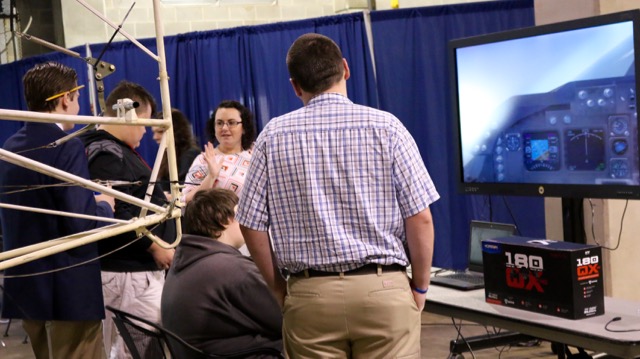 We are so pleased to sing the praise of Appalachian Technology Institute leader, Stephanie Younger of Belfry High School, for her recent designation as a Microsoft Innovative Educator (MIE) Expert. Stephanie's work has been highlighted through Appalachian Renaissance Initiative Summits (view her project presentations here) as well as in Digital Promise video spotlights of the the Kentucky Valley Educational Cooperative (KVEC) as a National Education Innovation Cluster. Watch the video below to visualize her exceptional leadership and see her speak at the Big Ideas Fest for Appalachia in Hazard on September 16.
Connect with Stephanie here on the Holler @ssiedentopf and follow her on Twitter @sasied22
Here is the official Microsoft Innovative Educator press release:
---
Stephanie Younger from Belfry High School in Belfry, KY Selected as Microsoft Innovative Educator (MIE) Expert
Recognized as global leader in using technology to transform education
Stephanie Younger was recently announced as a Microsoft Innovative Educator (MIE) Expert joining the more than 4,800 educators in the MIE Expert program worldwide. Each year, Microsoft selects innovative educators to share ideas, try new approaches and learn from each other as a global community dedicated to improving student outcomes through technology.
"We are very proud and excited for Stephanie for being named a MIE Expert. Stephanie's leadership in driving technology in our school, region, state, and nation has provided her additional opportunities for professional learning as well as afforded her the chance to provide the same experiences she has had with colleagues across the nation this past year." -Mark Gannon, Principal Belfry High School
As an MIE Expert, educators build their capacity for using technology in both the classroom and curriculum to improve student learning, advise Microsoft and educational institutions on how to integrate technology in pedagogically sound ways and be an advocate at conferences, events and trainings for how Microsoft technology can improve learning.
"Microsoft Innovative Educator Experts are inspiring examples of educators applying new ways of teaching and learning in their classrooms that motivate students and empower them to achieve more," said Anthony Salcito, Vice President, Worldwide Education, Microsoft. "We celebrate and support the work they do every day!"
To learn more about the MIE Expert program, click here. If you are an educator and interested in joining the MIE program, you can begin by joining the Microsoft Educator Community, where you can learn and grow professionally, exchange ideas and learn from others, and make connections globally and earn recognition