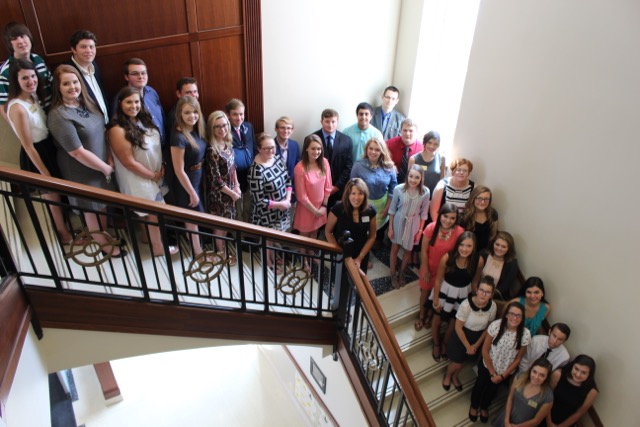 Kicking off year three of the regional program of excellence, thirty-four students from across eastern Kentucky were inducted on August 26 into the Appalachian Renaissance Initiative (ARI) 2016-2017 Student Senate.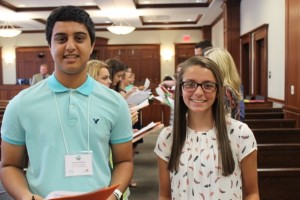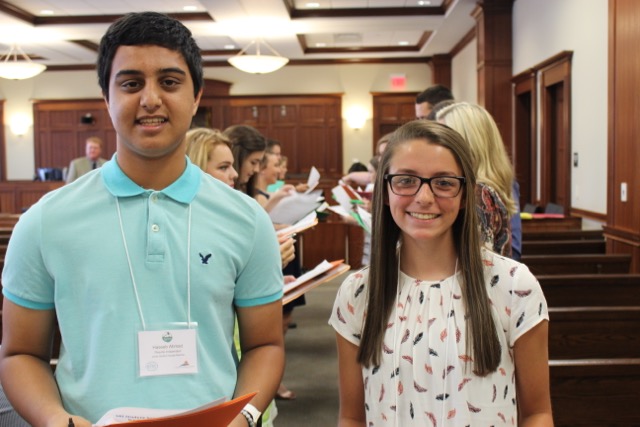 The ARI Student Senate is a critical student agency component of the U.S. Race to the Top Grant received by Kentucky Valley Educational Cooperative (KVEC) and is comprised of students from seventeen school districts in the region. Each district selects one junior and one senior to send to the Senate. Over the coming year, Student Senate members will work toward a more participatory role for students, as full partners in their education, through avenues of academics, community service, and school culture, focusing on themes of community health, economic development, and energy.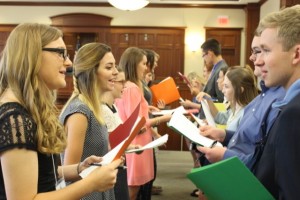 Student Agency Lead, Kelli Thompson of KVEC, formally swore the students into office in the Pike County courtroom of Judge Larry Thompson. Before taking oath, KVEC Director Jeff Hawkins shared some of the Appalachian Renaissance Initiative vision and thanked students for not only the leadership they will provide in the coming year and beyond, but the steps they are already taking to lead their communities in so many important and visionary ways.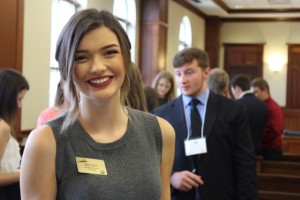 Kiley Short, a Senior Senate member from Letcher Central High School shared her thoughts about a new national report on student agency, Students as Partners, which she recently published on the Holler. "In the Prichard Committee's newest report, "Students as Partners," they note the importance of students having a say in their schools governing committees and councils. They call it "democratizing the school system." The Student Senate, in my opinion, is the epitome of democratizing the school system. Each of the 17 ARI districts in eastern Kentucky have two members to represent them in the Senate. These members take what they know about their individual schools, counties, and districts, and use that information to further improve the quality of education and life in their respective district. This gives us, the Senate members, the ability to directly immerse ourselves in the effects of making a difference for others as well as ourselves."
New to this coming academic year, current Student Senators will:
Focus on scaling their reach. Their intent is to meet with organizers, decision-makers, and other representatives within their districts on a monthly basis to communicate the goals and intentions of the Senate and impact local community issues.
Survey the student body to decide on initiatives prior to the development of their plan.
Organize and support Middle School Leadership teams and initiatives.
Share stories of their work to a national audience via Twitter @ARI_Senate and #ARIStudentSenate on social media.
Utilize My Strategic Compass software to advocate and support a more student driven path to graduation, including developing resumes, exploring career opportunities, practicing on ACT content, exploring scholarship opportunities, etc.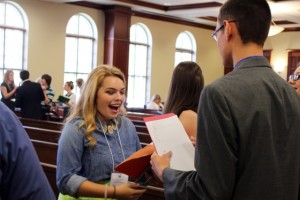 The Student Senate will coordinate the Promising Practices Summit on October 26 at the East Kentucky Exposition Center, an annual opportunity for over a thousand people to gather around authentic and real-world innovation taking place in our classrooms, both regionally and nationally. To build their skills and confidence with growing technologies, Senate members will meet virtually through a LYNC program installed on iPads awarded to each student and communicate between meetings through www.theholler.org, a social learning network designed for users in Central Appalachia.