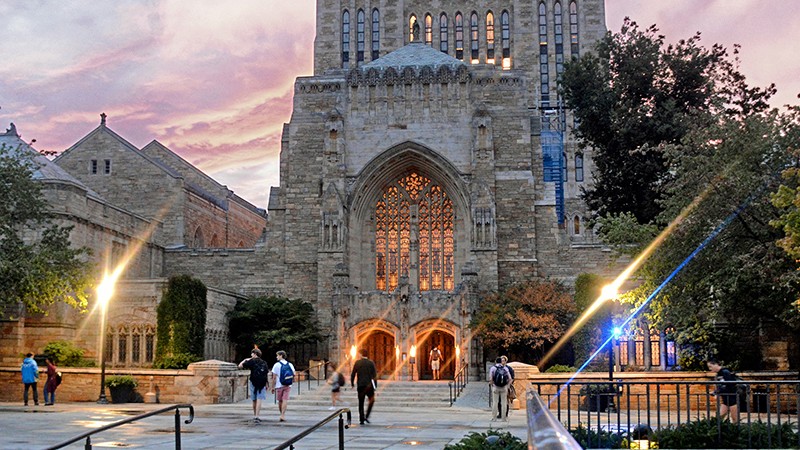 Special Holler report from Corinne Smith, Assistant Director of Undergraduate Admissions at Yale
---
My name is Corinne Smith, and I am an Assistant Director of Undergraduate Admissions at Yale. I am originally from Illinois, and grew up about forty-five minutes outside of Chicago. I have wanted to work in admissions since I was 16 and read the book The Gatekeepers by Jacques Steinberg. At the time, everyone I knew was working on their college applications, but I couldn't help thinking about how cool it would be to read them instead. In college, I studied Political Science and Sociology, but kept returning to the idea of working in admissions and eventually decided to pursue a career in this field.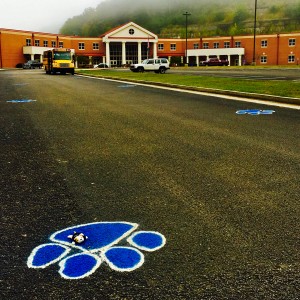 At Yale, I have my dream job! I get to work with students and families every single day talking about the college admission and application processes. While I talk a lot about Yale, I also try to emphasize the importance of going to college and finding a school that is a good fit for each individual student. What works for one person may be completely different for another! I also get to travel to amazing places to visit high schools and hold information sessions, I read applications from around the world, and am involved in planning many on-campus admissions events such as Bulldog Days in April for admitted students.
As soon as I was assigned to be the Admissions Officer covering Kentucky, I immediately started looking into visiting Appalachia. We have had incredibly strong students attend Yale from eastern Kentucky in the past, and I wanted to understand the background they were coming from so that I could be a better advocate for students from this area in the future. I also knew this would be a great opportunity to go to a place that we had never visited before in order to talk about the importance of college and the value of a liberal arts education.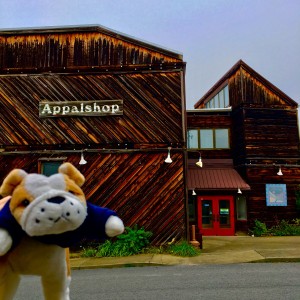 I did some research and connected with our Alumni Schools Committee Director, Bill Richardson, to discuss the possibility of visiting. He was very excited and helped me set up school visits at Letcher County Central High School and Shelby Valley High School. I met some fantastic students, counselors, and staff members at these two schools. In between visits, Bill drive me around Whitesburg and we talked a lot about the community. I also got to explore Appalshop, went into some local businesses, walked around the downtown area, and had dinner with a few members of the community at the Richardson's home. Overall, it was an amazing visit!
The schools I visited were extremely welcoming and accommodating. They were also really excited to have me there and it showed! I want to give a big shout out and "thank you" to Principal Greg Napier at Shelby Valley High School for talking to the students alongside me during the visit and being a great advocate for pursing a liberal arts education. The students at both Letcher County Central and Shelby Valley were engaged and asked great questions about Yale as well as the college application, admissions, and financial aid processes. I hope that they left my session feeling less stressed about applying to college and more aware of the options available to them.
Visiting and researching any school is an important part of the college search process. It is difficult for students to know what type of institution will be the right fit for them unless they have a feel for the campus, its community, and the school's learning environment. However, we realize many students are unable to come to campus (especially during their junior and senior years when they have so much going on!) so the admission office at Yale has created an awesome virtual tour that students can access on our website: http://admissions.yale.edu/virtual-tour.
When it comes to attending Yale, our students have resources and opportunities available to them on campus as well as around the globe. Yale encourages students to take classes in many different subjects, conduct research in any department, travel around the world through study abroad (at Yale, a student's financial aid travels with them!), and we have amazing career services that will help students get internships, jobs, or figure out a career path. Exploring and taking advantage of these resources and opportunities is a key component to learning at Yale.
Several recent academic studies have highlighted the information gaps high-achieving low-income students in rural communities face when it comes to applying to college. The research indicates that high-achieving students from rural areas are much less likely than similar peers in urban areas to know someone who has traveled out of state to attend college, and they are less likely to apply to colleges that are a good fit for their academic strengths. Many of these students enroll in colleges with limited academic and financial resources, and relatively low retention and graduation rates.
For the past four years, Yale has targeted high-achieving low-income students by using US Census data to identify students who live in areas with lower levels of household income and lower levels of educational attainment. Following the lead of researchers, Yale's direct mail campaigns communicate the surprisingly low net cost of attending Yale (lower, in many cases, than attending an in-state public college), and highlight the easy process of applying to Yale for free. Yale's communications put the issue of cost and affordability front and center in the hopes that the facts about Yale's extraordinary financial aid will help to change perceptions about accessibility.
We also send admissions officers and a team of almost 300 Yale student ambassadors to visit hundreds of high schools across the country every year, including many in rural communities. Our office even participated in the Future Farmers of America National Conference last year, which drew students and school leaders from across the country.
Yale seeks to bring to campus the strongest students from the most diverse collection of backgrounds. We know that the next generation of leaders will come from rural communities as well as urban and suburban areas. We want to do everything we can to ensure that high achieving students in rural areas have the best possible information about their college choices.
There are many resources on our website where students can learn more about learning and living at Yale as well as explore some of the activities our students are involved in (http://admissions.yale.edu/). On the website we also have the virtual tour (http://admissions.yale.edu/virtual-tour), and extensive information about the application process. Answers to some of our most frequently asked questions can be found here: http://admissions.yale.edu/faq/applying-yale-college. Finally, if a student has more specific questions they can reach out to our questions portal at http://admissions.yale.edu/questions.