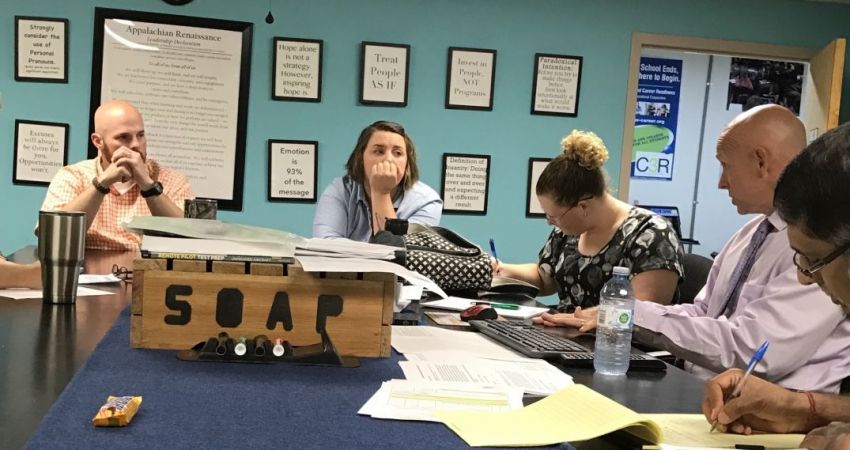 The Race to the Top Grant awarded to the Kentucky Valley Educational Cooperative has provided a variety of resources and programs for educators and students in the twenty-one district region.  Two years ago, under the supervision of Paul Green, aerospace classes were initiated in some of the local high schools through the Appalachian Technology Institute (ATI).  The new curriculum has provided the opportunity for students to explore several topics and content in the field, such as drones, ham radio, circuitry, aviation, rockets, space, weather and other related subjects.
Five of the aerospace instructors met in Hazard recently to plan for the upcoming school year.  Having previously designed a pathway guide, the group discussed curriculum options for students enrolled in the classes.  Mr. Green introduced them to online curriculum resources, including web sites that house curriculum created by teachers in the field and also to the availability of free textbooks.  The teachers exchanged lessons learned in areas such as building and flying drones, while at the same time conferring about what they are teaching in their individual classrooms.
Potential projects for the 2017-18 school term were discussed and materials required for the ideas were listed.  The teachers realize the need for their students to research job opportunities in Appalachia relating to the content they are exploring.  Negotiations are underway with Eastern Kentucky University and Hazard Community and Technical College to offer dual credit hours to students enrolled in the advanced aerospace classes.
Nine high schools in the KVEC region currently offer aerospace courses to their students.  Attending the planning meeting were Angie Thornsberry (Knott Central High School), Luke Gilley (Middlesboro HS), Christin Roberson (Sheldon Clark HS in Martin County), Kyrie Beye (Betsy Layne HS in Floyd County) and Dr. Haridas Chandra (Belfry HS in Pike County).
Schools not represented include Johnson Central HS, Lee County HS, Owsley County HS and Wolfe County HS.