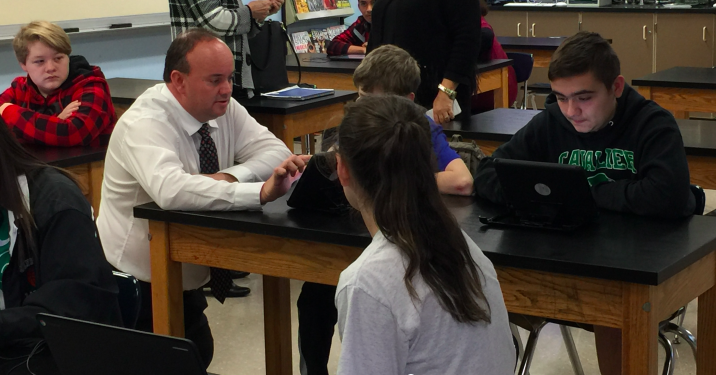 Brian Bentley, Jenkins Independent, Piloting Summit Personalized Learning
Transitioning from a traditional classroom to a personalized learning classroom is not an easy task.  The process requires hard work and a strong commitment by teachers and school leaders.  Educators in the KVEC region have been introduced to the Summit Personalized Learning program, a free platform that provides the tools needed to customize instruction to meet each student's unique needs and interests while at the same time allowing teachers to build strong relationships with students.
The Summit platform, developed by teachers, brings personalized learning to classrooms by helping students set both short and long-term goals, track their own progress, prioritize their work, learn content at their own pace, complete projects that apply knowledge to real-world situations and reflect on what they learned.  Arranging this type of learning environment enables teachers to move away from a lecture-oriented classroom environment and spend more time as a mentor and facilitator.  Small groups are created to support struggling students while allowing them to be the primary decision-makers in their own learning.
Before this transition can be successful, all educators involved must have the critical elements of enthusiasm and a growth mindset.  Changes will be required in grading policies, weekly schedules, assessments, and how teachers and students spend their time.
Brian Bentley, 8th grade science teacher at Jenkins Middle School, piloted the program this past school year.  He said when his superintendent came to him and asked him to spearhead the implementation of this program, he "really liked the idea of self-paced, project based learning".  He explained, "We were also beginning our implementation of the Google Suite of apps with our students, so it seemed like a great fit.  I loved the idea of students being able to access the curriculum from anywhere they had an internet connection. I also liked that I could assess their work at anytime and from anywhere too."
Mr. Bentley discussed how students were able to learn at their own pace and in the manner which worked best for them. He said the students were hesitant at first, but were willing to give it a try.  He stated, "Most adapted to the new style and did well with it.  A few (10%) excelled and did better with this program than with traditional instruction. The only time/place it wasn't effective was for the lowest performing group of students that were also not self motivated.  This program requires students to be responsible for their own learning.  This is one of the best aspects of this program, but is also the hardest to accomplish for these students.  These students struggled with this even more than they did with traditional instruction."
Mr. Bentley will also be working with Summit Personalized Learning with 6th grade science students during the upcoming school year.  He plans to look at student data and compare that to what Summit Learning has to offer.  He comments that "as of now I intend to blend Summit Learning and other strategies.  I will have a more specific idea after attending the Summit Training this summer. I do know that mentoring students and public relations need to play a greater role this upcoming school year."
Kelsey Tackett, teacher at South Floyd Middle School, remarked, "I have only dipped my toes into personalized learning in my classroom. I pulled assignments and methods from Summit Learning but could not fully implement due to the lack of one to one technology for my students last year. Technology is vital to the implementation of this program." Ms. Tackett created opportunities where students could have choice in their day to day learning, such as selecting what they did as their bell ringer, assignment or homework.
Ms. Tackett commented, "Students enjoy having choice during the school day. Just like anyone else, when a student sees an assignment about cells they might not get excited, but giving them the choice of creating a comic strip about cell respiration, a poster or a written report, engages all of your students as individuals because they are choosing the method in which they are learning and utilizing how they learn best."
Next year, the focus in Ms. Tackett's 8th grade classroom will be the full implementation of Summit Learning. She is aware that typical grading will be changing. Other modifications will include when assignments are due and becoming completely paperless. Her enthusiasm is evident when she talks about "the  biggest challenge and what I am most excited for is being able to allow students to learn at their own pace."  She explains that "this will mean that students will spend different amounts of time on various units. Overall, I think this year will be challenging but it will have our students truly learning content in the best way and prepare them for life outside of school because they will be obtaining life skills."
Training in Richmond, California, in late June will encourage school leaders to prepare a vision for their site implementation and to lay the groundwork for teacher summer training and an effective launch in the fall.  A training on teacher implementation of the program will be conducted in northern Kentucky this summer.
Educators from the KVEC region participating in the professional learning session in California include: KVEC Summit Learning Leads (Andrew Castle and Bernadette Carpenter); Floyd Central (Greta Thornsberry, Principal; Marsha Smith, Instructional Lead/Teacher; Lisa Tackett, Guidance Counselor); South Floyd Elementary (Rebecca Morrison & Kelsey Tackett, Instructional Leads/Teachers); Floyd County District Office: Tonya Williams (Chief Academic Officer); Tonya Goodman (District Assessment Coordinator); Jenkins Independent (Mike Genton, Superintendent).
Personalized learning opportunities, such as those provided through the Summit Personalized Learning program, equip students with the deeper thinking and life skills that will help prepare them for college and life.  "When students harness the power within themselves, there's no limit to what they can achieve" (http://info.summitlearning.org).