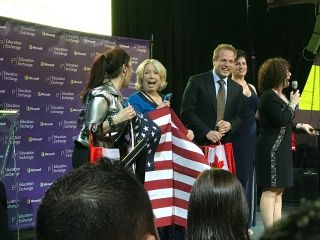 "It all began with ARI (Appalachian Renaissance Initiative)", says Jeanne Caudill, first grade teacher at Mullins Elementary in Pike County.  And her story is phenomenal!
Each year KVEC awards Learning Innovation Grants to teachers who submit applications for original and creative learning projects in their classrooms.  In the fall of 2016, Jeanne Caudill's problem of practice to be addressed was that of fluency.  Ms. Caudill  has observed that each year some of her students have a great deal of trouble recognizing sight words, which prohibits them from becoming fluent readers.  She quoted a research statistic which acknowledged that 50% of what an adult reads is sight words.  Therefore, if students' difficulties recognizing sight words are not addressed in the primary grades, they will continue to struggle with reading fluency and comprehension.
With her grant funding from ARI, Ms. Caudill purchased a Microsoft Surface Pro 4 Tablet and then installed the OneNote app and the add-in called Learning Tools.  Learning Tools was originally created to meet the needs of students with dyslexia, but all students can benefit from its use.  In October, Ms. Caudill selected for her research the four students in her first grade class who had the lowest scores on the MAP test and their benchmark fluency scores from their reading series assessment and who qualified for Tier 2 intervention in reading.  On a weekly basis, six to eight new sight words were typed into OneNote.  The students would listen, with headphones, and read along with the words.  Ms. Caudill said one really good thing about OneNote is that "it's easy and quick".  When the four students began using the program, they could only read two to three percent of the sight words.  At the end of March, one of them recognized 100% of the sight words and the other three could read above 80% of them. Their MAP scores also increased by double digit percentages. Ms. Caudill explained that they are more confident and independent readers and can better comprehend the stories because they are not struggling to recognize most or all of the words.
Ms. Caudill has been involved with Microsoft since 2012.  She said it "started with a lady passing an email along".  The head of STLP forwarded an email inviting teachers to participate in a program with Microsoft.  Jeanne applied and was chosen to visit the Microsoft headquarters in Redmond, Washington.  She attended a Microsoft conference in Philadelphia and participated in the U.S. Forum in Denver last summer, where she heard about Learning Tools for the first time.  In March of this year, she was selected as one of twelve teachers from the United States to attend the Global Microsoft Educators' Exchange in Toronto, Canada.  In the keynote speech given by Mike Tholfson, Program Manager for OneNote, Ms. Caudill's innovative use of the program was mentioned.  The activity, "OneNote Avenger" (also known as "Technology Is Our Superpower"), won the Kids' Choice Award for best project as judged by Canadian school children.
Ms. Caudill has been a member of the Microsoft Innovative Educator Expert (MIEE) program for four years.  She participates in monthly Microsoft Skype sessions and has been a Surface expert for three years.  She has recently written a blog about what she's doing with OneNote that will be published by Microsoft in the near future.  She commented that when she's at the conferences she doesn't "feel worthy to be there; however, you don't have to be an expert at everything Microsoft".   Microsoft considers this 'cutting edge' technology because she is using the program in a new and original way.  If she can manage to switch a lot of her other teaching things to the Surface, she states that "paper could be a thing of the past".
Video clip by Jeanne Caudill on how she implements OneNote:  https://www.theholler.org/members/jeannecaudill/