When East Ridge High School students enrolled in Willa May's advanced art class last fall, they expected to be challenged by the art projects that she assigned. What they didn't expect was that by late April, they would be required to assimilate both English and History standards into those projects. The Banner Art Project, a place, based lesson that required historical research, showcased the work of nineteen regional schools for the Action Research Summit at the Expo Center in Pikeville on April 26, 2016.
The East Ridge project, pictured above, focused on eastern half of Pike County. Students produced researched-based art on post cards that they glued to a 3' X 5' banner to approximate the location of each event on a map of the region.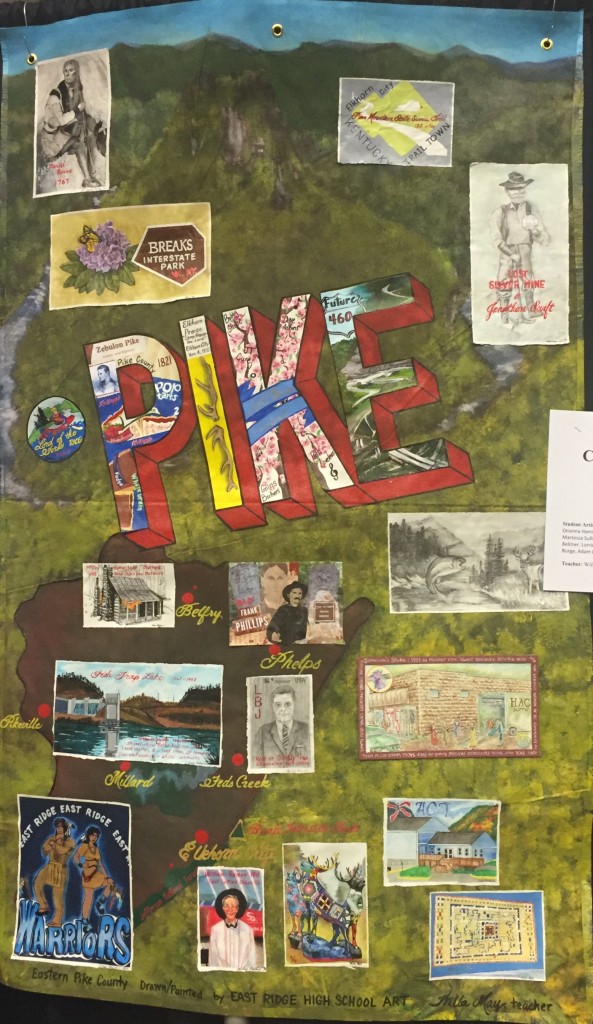 Students who participated are as follows:
Top of the Banner
Sidnie Burge__ Daniel Boone's first steps in Kentucky; watercolor
Willa May (teacher)__ Breaks Interstate Park and Elkhorn City Trail Town; acrylic
Kayla Jones__ Jonathan Swift's Lost Silver Mine; graphite pencil
Center of the Banner
Gwendolyn Childers__Elkhorn City's Lord of the Forks Kayak Race; acrylic
Lindsay Adkins, Alora Short, Destiny Lambert, Lorrie Moore, Cassie Mullins__PIKE letters; acryylic
Jesse Belcher__ Belfry/Toler- McCoy Homestead; pen and ink
Cassie Mullins and Hannah Huffman__Phelps's "Bad" Frank Phillips; montage images
Adam Pierce__Feds Creek/Lick Creek- Hunting and Fishing; graphite pencil
Cassie Dotson__Millard – Fish Trap Dam and Lake; watercolor
Rachel King__Grapevine-President Lyndon B. Johnson visit; graphite pencil
Chris Epling (local artist and author)__Johnson's Store at Wolfpit; ink
Bottom of the Banner
Orianna Hamilton__East Ridge High Schools' Native American heritage; acrylic
Haley Ramey__Elkhorn City's founder William Ramey; colored pencil
Willa May (teacher)__Elkhorn City's Elk Project; colored pencil
Cassie Mullins__Elkhorn City- Artists Collaborative Theater; watercolor
Willa May (teacher)__Elkhorn City's Blue Line Trail; colored pencil
Background
Willa May (art teacher)__The Towers, Breaks Interstate Park; oil base enamels
Historical research was written for each postcard by a freshman student, Lorrie Moore.
Ms. May said that the project "was an excellent way for students to showcase their talent and become more familiar with the beauty and history of their communities." She hopes that her students' future visits to each of these sites will evoke pleasant memories of their high school years.
For more information on art projects happening throughout the Kentucky Valley Educational Cooperative's region, check out the Art Gallery Workshop.