In their first year of participation in CmPs (Community Problem Solving), Flat Gap Elementary's team consists of twelve 4th and 5th-grade students and two coaches (Mrs. Ferguson and Mrs. Witten). Their project focuses on raising awareness of kids drinking more water and staying hydrated throughout the school day.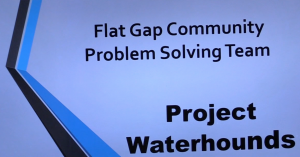 They surveyed students and observed that many do not drink enough water and do not want to drink from water fountains because they were not cold and looked old. Flat Gap received a STARS grant form KVEC which helped purchase a hand free refrigerated/filtered water fountain, and a bottle filling station that is in now located in the lunchroom.
Additionally, they have arranged fundraisers to raise money for the project, including selling concessions at sporting events and selling meals with water-only during the fall festival. They have been giving out free water with cut fruit during sporting events and parent-teacher conferences. Them fundraisers have helped to raise enough money to purchase two water fountain/bottle filling stations to be installed in school hallways.  The Johnson County Health Department and Paintsville Utilities contributed to community outreach.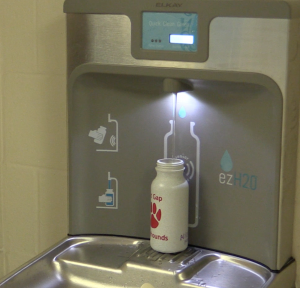 The student team toured the local water plant to learn about chemicals in water and treatment processes. The health department also came to discuss the benefits of water with the team. Students have also made posters around the school to get everyone thinking about water and teachers in the school are allowing students to bring only water into the classroom.
The assembly in the video above is a quick overview of Flat Gap's School project.