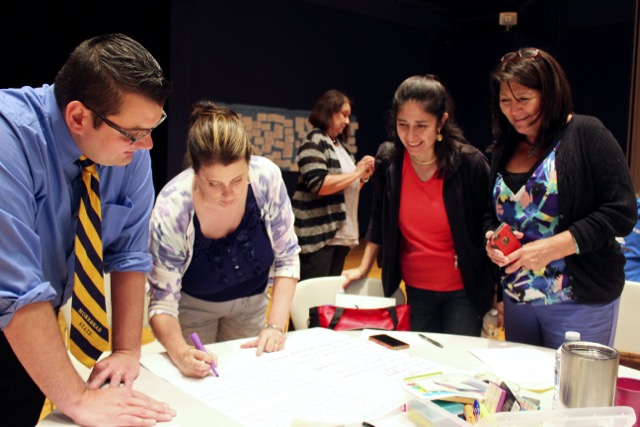 A group of highly skilled Spanish/ World Language teachers this year are joining a new Kentucky Valley Educational Cooperative (KVEC) Professional Action Network (PAN) called Holler Fellows. The Holler is a high-tech studio & makerspace which supports this online social learning platform designed for learners in Central Appalachia.
In two years the site has grown to more than 3,000 registered users and an annual readership of 60,000, using the Holler network to learn, share, connect, and host original content. Holler users have generated more than 70 groups, or micro-communities, within the site. Popular groups called "Hollers" include Student Senate, Action Research, Gaming, Podcasting, and Mobile Apps for Teachers. Students and educators using the Holler have shared more than 20,000 items since launching the site in 2014. This year Holler Fellows will work with the Holler Team and use their teaching talent and classroom experiences with online learning to boost digital cross-district connecting and help shape the next phase of the Holler.
Introducing…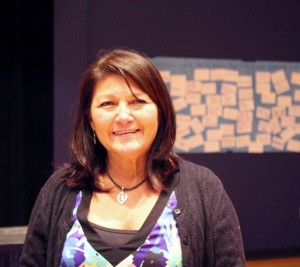 Gloria "Gina" Newsome, @glorianewsome, is also known as "Señora" to her students and "Abuela" to Stewart (6) and Spencer(4), her grandsons, the main focus of her life. Gloria is a native Spanish speaker born in Texas and grew up in Detroit. She married Wayne Newsome and moved to Floyd County Kentucky as a new mother in 1976. She raised her sons Billy and Brian before enrolling in college. As the first in her family to attend college she worked hard to earn her BA in Spanish Education at Morehead State University in 2005.  She earned her MA in Secondary education with an endorsement to teach technology at Morehead State University in 2009.
Gloria has taught Spanish for 11 years in Floyd County Schools, ten of which were at Prestonsburg High School and is now starting her second year at South Floyd High School. During this time Gloria has lead several student tours abroad to Europe and still gets excited with her daily student interaction.  She chartered Spanish National Honor Society Groups at both of her schools and currently serves as Region 6 Regional Representative for Kentucky World Language Association (KWLA). In addition, she currently serves as Vice President of American Association for Teachers of Spanish and Portuguese (AATSP) in Kentucky and is a member of the Kentucky Valley Educational Cooperative (KVEC) World Language Cohort.
---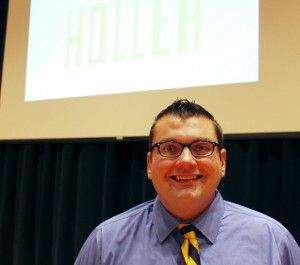 Emmanuel Anama-Green, @eanama, is a native of Owsley County, Kentucky, currently resides in Harlan County, Kentucky and teaches Spanish at Harlan County High School. His father was a doctor from the Philippine Islands (although he did not meet him until age 28), and his mother is a native of Kentucky. He has attained a Master of Arts in Teaching degree in Spanish Grades P-12, from Morehead State University; a Bachelor of Arts with a major in Spanish and minor in International Studies with honors of Cum Laude, also from Morehead State University; and an Associate in Arts degree with honors of High Distinction, from Southeast Community College in Cumberland/Whitesburg. During the summers of 2014 and 2015, Mr. Anama-Green has been able to study abroad for 6 weeks each summer in Guanajuato, Mexico through Southern Oregon University in the pursuit of his Rank I in Spanish language and culture.
Professionally, Mr. Anama-Green is involved in a number of state educational organizations. However, he values his role as a state board member for the Kentucky World Language Association most of all.  In his classroom, Anama-Green utilizes a wealth of technology integration. His normal teaching methodology and pedagogy involves students creating websites in Spanish for unit assessments, making phones calls to restaurants and hotels in Spanish-speaking countries via Skype®, having students create recordings of themselves speaking Spanish, etc., and an infinite number of other technology devices and programs.
---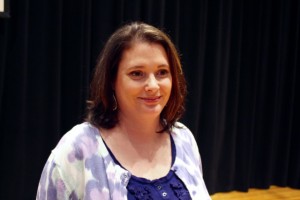 Tamara Kunkel, @tamarakunkel, is a Spanish teacher at Knott County Central High School. She attended Berea College, graduating with a Bachelor's Degree in English, with a Spanish minor. She earned her English 8-12 teacher certification from Alice Lloyd College. Tamara has completed Morehead State University's Master of Arts in Teaching Spanish P-12. She is currently a graduate student in the Teacher Leader Program at the University of Pikeville through a SOAR/ARI grant. In conjunction with the Teacher Leader Program, she is en route to becoming a National Board Certified Teacher of Spanish.
Tamara's favorite books include Gene Stratton Porter's "Girl of the Limberlost, " and "The Harvester." She also loves more contemporary works of fiction like paranormal romance, murder mysteries, thrillers, fantasy, — if it has pages you can guarantee she will read it! Tamara lives in the head of a "holler" in Leburn, Kentucky with her husband and children. She and her husband are complete opposites: her husband enjoys outdoor activities, like hunting and fishing, whereas she enjoys being indoors reading, watching true crime shows on tv, and shopping online. Tamara's twin sons are a wonderful combination both.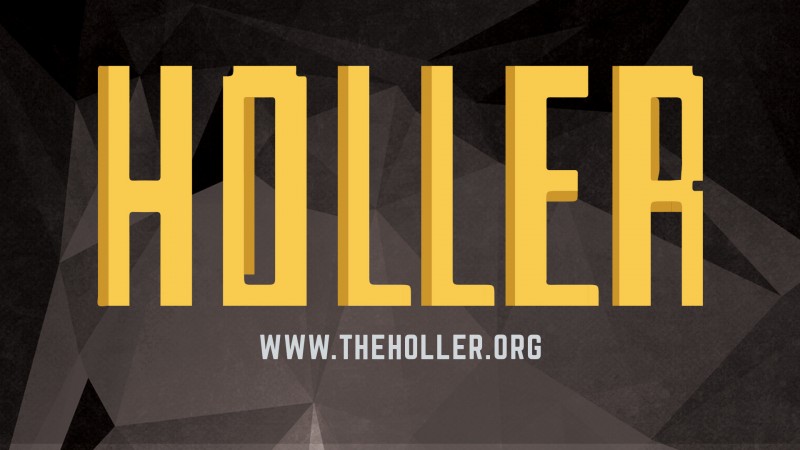 Connect with these great educators through their Holler profiles and follow their work on the World Languages Holler. Follow @KVEC_ARI and the @Holler_Network on Twitter and Facebook to keep up with the work of all KVEC Fellows and students this year and beyond.