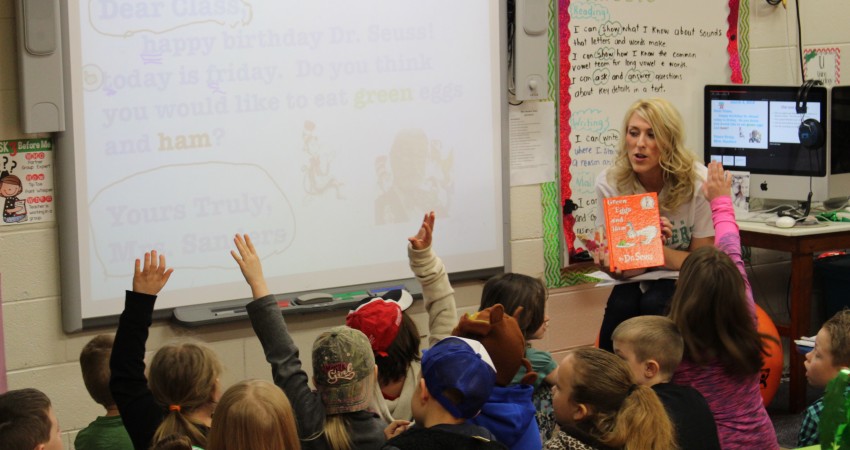 As a 6th year teacher, I am very aware of the rate of teacher burn-out. In fact, most teachers leave the profession after only 5 years. When the 2015-2016 school year began for me, I had a renewed passion for my job. I felt that I was really working hard to reach and teach all of my students, but as the year progressed, the passion started to dissipate. Between the stresses of regular teacher responsibilities and the monotonous routines of my classroom, the burnout started to creep up on me once more.
I began a process called Shaping Our Appalachian Region. Through this program, I will earn a Master's degree in Teacher Leadership as well as my National Board Certification. Throughout my experience in this program, I have been asked to evaluate the standards for a National Board teacher. In looking at the standards, I was pleased to find that I felt that I was fulfilling most of what was being asked of me, but there was one glaringly obvious dark spot – relevance to students and the ability to introduce them to topics of state, national, and international importance.
As a high school English teacher, I struggled making my content relevant to students, especially those students who proclaimed that they were not planning to attend college but would take a vocational route. How would a carpenter truly use Shakespeare's Hamlet? How would an auto-mechanic relate William Golding's Lord of the Flies to aid in the completion of his/her profession?
As Christmas break approached, so did a large, gloomy, black cloud that would hang over me. My Senior students were just starting Lord of the Flies. The desks were in straight, traditional rows. My students would read a chapter aloud, pausing for me to explain, then they would take a quiz over that chapter. I knew this was probably the most boring class for them and for me, but I had no idea how to fix it.
Over the Christmas break and then hiatus from weather, I did some research. I came up empty handed. I could find NOTHING that would allow me to make teaching a novel more interesting OR would help me to make my class relevant to my students while incorporating important and pressing issues in the world today. I felt the slump kick in. I felt the count-down begin. I told myself "just a few more months – then this school year will be over."
Then, thankfully, everything changed. As a participant in the Appalachian Renaissance Initiative, I was given the opportunity to attend a training on the Inquiry Design Model (IDM). At first, I was skeptical. Another educational tool to use? I felt bombarded with so many that I had already and never used before. What a wrong assumption that was of me to make about the IDM.
During the training itself, we learned facts about IDM, but my favorite part was the tasks that we were given to complete. We were actually given the task of creating an Inquiry Based Design. We saw how the process worked from the ground up. The first thing we did was to write down questions regarding a specific topic, then we were asked to make that into a single question that our students would care about. It was around this time, which was only mid-way through the training, that a lightbulb in my head went off. This could completely change my classroom making it more relevant and engaging for my students while still giving me the ability to teach the necessary content and texts.
I began my first IDM right then and there with the compelling question "Why am I here?" I would pose this to students, and they would research and decide the relevance of ELA to their lives on their own. We answered questions like "When will I use ELA in my life now?" "When will I use ELA in my life after graduation?" and "How does literacy affect poverty?" As the lesson unfolded in my classroom, my desks changed arrangements at least twice. I saw the fire in my students to learn rekindled. I felt the fire for teaching rekindle within me, and I saw the moment of realization in the eyes of my students that ELA is important to them now and forever.
Through implementation of the IDM, I have felt a renewed passion for my profession. I have found a way to make English Language Arts matter to everyone – college bound, vocational bound, military, etc. I have found a way to force my students to think critically about not just the subject matter but about the world around them. Not only did the IDM provide an avenue for my students to understand the relevance of the content, but it made me think critically as a teacher about the lesson that I would present to my class. All in all, I truly believe it has made me a better teacher and learner.
IDM truly "came through in the clutch" and rescued me from the countdown-mode teacher. I really am thankful to the creators of Inquiry Design Model and the Appalachian Renaissance Initiative for allowing me the opportunity to attend the training. I have shared with my colleagues my success with IDM, and I hope to bring more teachers on board with using this model in every subject area classroom, as I will continue to use this model to enhance the educational experience for all students who sit (or stand or circulate) in my classroom.
This blog originally appeared at www.c3teachers.org. Connect with Kayla @kaylam1234 on the Holler. Watch her presentation on classroom management systems for digital conversion from the Promising Practices Summit in October 2015 and hear her complete Action Research on April 27th at the East Ky Expo Center.  This IDM training was a part of ARI-UK Next Generation Leadership Academy. A video archive of the presentation is available here.