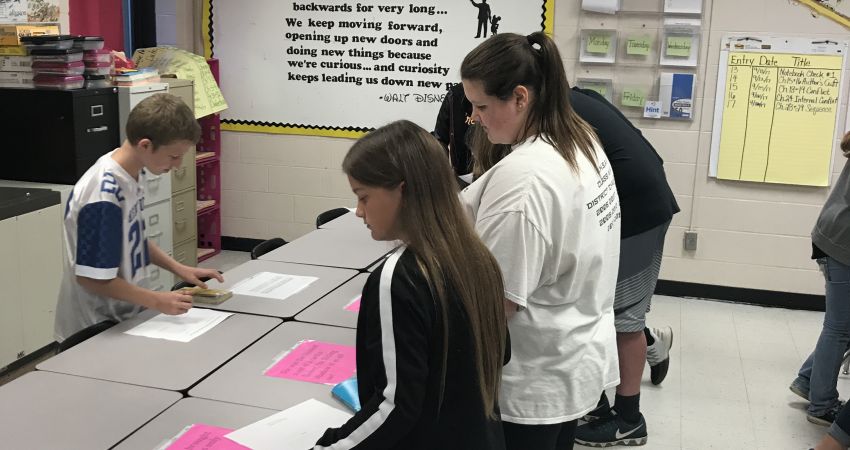 Dr. Rachel Holbrook gives her Johnson County Middle School students a voice and allows them the opportunity to talk about traditions that they have here in Appalachia that can help portray their community in a positive light.
In order to promote writing and learning, Rachel used an "Innovation Grant" award from the Kentucky Valley Educational Cooperative (KVEC) titled "The Write Way to Showcase Appalachia."
"I have always enjoyed and excelled at writing," Rachel shares.   "When I was working on my Master's degree I was a part of the National Writing Project. As a Writing Project Fellow, I feel that I realized how important it is for students to be exposed to authentic writing experiences. While I know that students need technical writing skills, I also value the importance of storytelling in a narrative form. Even though Appalachia is commonly portrayed negatively because of our high poverty rate and drug abuse, I feel that there are positive things happening in our communities as well and those things need to be showcased.  And, what better way is there to showcase our communities than through the eyes of students?"
Rachel is having her students use the digital camera that she purchased with the grant to snap images of traditions that represent our culture in Appalachia and then come back to language arts class and narrate or tell the story behind those images. When students finish taking their writings through the writing process, Rachel will work with students to print the images they captured with the photo printer that was purchased. "We will then marry the images and writing together and create a gallery walk for our school that highlights traditions that our students have written about," Rachel explains. "Ultimately I would like to put this to video to showcase the stories my students have to tell."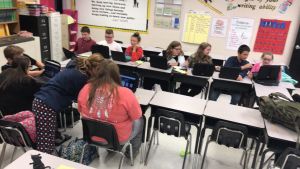 Rachel also obtained a second "Innovation Grant" titled "We're 1:1, So Now What?" to assist student engagement with technology. "We are a 1:1 school (means a digital device is available to each student) and yet I feel my students aren't completely engaged in the technology we have. I plan to integrate an Apple TV, Chromecast, Nearpod lessons, and BrainPop videos to more thoroughly engage my students and marry content delivery with technology engagement."
Rachel is a first-generation college graduate in her family, graduating from Morehead State University with a Bachelor's Degree in middle school education (language arts and social studies) as Summa Cum Laude. She went on to obtain a Master's Degree as a reading and writing specialist, two Rank I degrees certifying her to be a principal, instructional supervisor, and director of pupil personnel. She is also a National Board Certified Teacher and obtained her doctorate in educational leadership in 2013.
Rachel's projects were funded through the KVEC "Race to the Top" federal funding by the U.S. Department of Education.  She was one of over 100 instructors who presented at the Forging Innovation in Rural Education (FIRE) Summit, a multi-district K-12 educational professional learning event October 25 in Pikeville, KY.  More than 17,000 viewers, from 15 countries and 42 states, tuned in to the live stream provided by KVEC's digital platform the Holler to watch Rachel's and the other presentations.
Dr. Holbrook's and the other presentations can be found on the www.theholler.org.