According to Dr. Reuven Feuerstein, "Everyone – regardless of age, etiology or disability – has immeasurable ability to enhance their learning aptitude and heighten their intelligence" (http://equippingminds.com/equipping-minds-cognitive-development-program/).  Dr. Feuerstein developed Feuerstein's Instrumental Enrichment (FIE) Method in the 1950's.  FIE assists students in learning to express themselves.  Students gain language and knowledge about their cognitive processes that help them make better decisions in all aspects of their lives.
The Feuerstein Method, in conjunction with the Equipping Minds Cognitive Development Curriculum, includes neurodevelopmental therapy, vision therapy, sound therapy, and vestibular therapy. Treating the whole person through a multi-disciplinary approach increases cognitive abilities, which impact academics, relationships, communication, and life skills. Equipping Minds Curriculum improves visual and auditory processing, working and long-term memory, attention, comprehension, and critical thinking skills.
All students can benefit from the exercises and activities that are part of the Equipping Minds Curriculum.  Improvements have been noted in individuals with Down's syndrome, autism and even gifted students.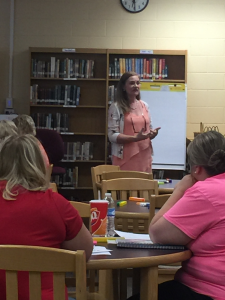 Thirty educators from eight districts in the KVEC region were introduced to the Equipping Minds Curriculum at a summer conference conducted by Dr. Carol Brown, author of the curriculum.  Teachers from the fields of regular and special education, along with speech and occupational therapists, attended the workshop.  Districts represented at the conference included Leslie, Perry, Owsley, Floyd, Breathitt, Magoffin and Knott counties.
Ruth Adkins, teacher at R.W. Combs Elementary, attended the training and remarks that "Equipping Minds has changed my life!!!" 
The free training offered to KVEC Special Education Districts requires implementation of strategies of the program. Progress updates on implementation will be required, with coaching and follow-up services available via www.theholler.org.
For more information on Carol Brown and Equipping Minds visit her website at http://equippingminds.com.