[vc_row][vc_column][vc_column_text]
The eclipse is coming!  Kentucky has been excited by the prospect of being in the path of totality for the 2017 solar eclipse for a while now.  We are even counting down and it is only a few weeks until August 21st at about 2:30 pm!  Unfortunately, not all of Kentucky is in the path of totality and won't see the total eclipse.  However, in our region we have about a 95% totality, which is still pretty spectacular.  We will not, however, see what total solar eclipse chasers relish, which is the visible corona surrounding the sun.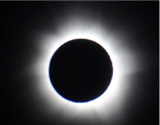 Kentucky Valley Educational Cooperative, in collaboration with the Challenger Learning Center of Kentucky in Hazard and the National Challenger Learning Center, is offering information and resources for the teachers in our region to engage students in observation of and learning from the 2017 solar eclipse event.  There is a series of six brief videos available on the Holler that offer information about the eclipse as well as ideas for teaching using inquiry techniques, including Question Formulation Technique and the Kentucky Academic Standards for Science practices and cross cutting concepts. 
Teachers who send an outline of activities they plan to do with their students around the eclipse will receive a class set (30) of eclipse glasses.  Those who send pictures and/or video of their activities after the event will receive an eclipse commemorative t-shirt.  To be eligible for these incentives, teachers must submit the form below.  Glasses will be awarded on a first-come, first-served basis until we run out.  Only teachers who submit the form will be eligible for the t-shirt after they submit their pictures/videos.  The QR code or the link below will take you to the form.  It is critical that you wear eclipse glasses or use other means (pinhole viewers, etc.) to view the entire eclipse in our region!  There will not be a safe time to look at the eclipse without protection! https://goo.gl/forms/Hp5oQHG8s2LZ54ED3
Get your eclipse!!

[/vc_column_text][/vc_column][/vc_row][vc_row][vc_column][vc_tta_accordion active_section="" collapsible_all="true"][vc_tta_section title="Explanation" tab_id="1502197383470-9dbd1b7b-e989″][vc_column_text]
[/vc_column_text][/vc_tta_section][vc_tta_section title="Stories" tab_id="1502197383470-5272fda8-1304″][vc_column_text]
[/vc_column_text][/vc_tta_section][vc_tta_section title="Geography" tab_id="1502197618648-0ac46dbf-af53″][vc_column_text]
[/vc_column_text][/vc_tta_section][vc_tta_section title="History" tab_id="1502197635873-b0bb7c40-dd3a"][vc_column_text]
[/vc_column_text][/vc_tta_section][vc_tta_section title="Data Analysis" tab_id="1502197636897-df4cc393-d950″][vc_column_text]
[/vc_column_text][/vc_tta_section][vc_tta_section title="Linking Mathematics" tab_id="1502197637942-2bd750d5-c38a"][vc_column_text]
http://eclipse2017.org/blog/2016/11/12/eclipse-predictions/

https://www.eso.org/public/outreach/eduoff/aol/market/collaboration/eclipse99/projects/solecl-2d.htm
[/vc_column_text][/vc_tta_section][vc_tta_section title="Activities" tab_id="1502197634732-ba5e7f5b-b6fd"][vc_column_text]
[/vc_column_text][/vc_tta_section][/vc_tta_accordion][/vc_column][/vc_row]