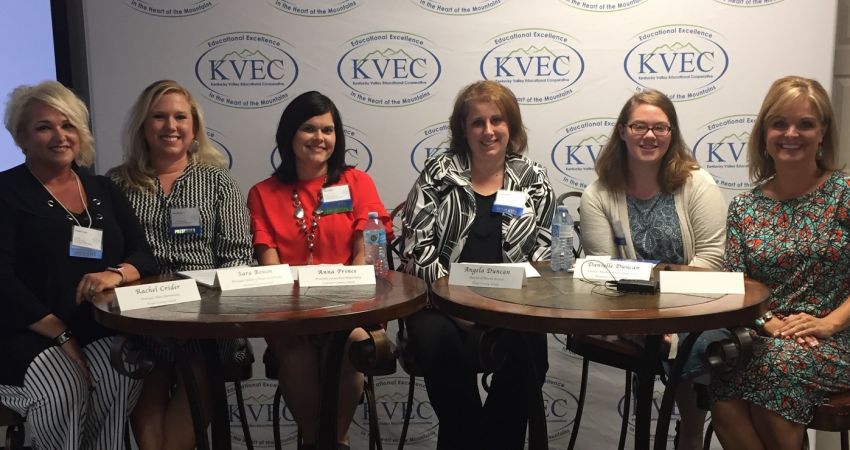 The Kentucky Valley Educational Cooperative (KVEC) hosted its second annual Micro-Credential Summit on May 23, 2018. This year's forum brought together representation from local, state, and national education organizations to discuss options for using micro-credentials as an integral component of a professional learning ecosystem.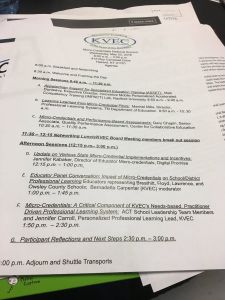 Objectives of the day included understanding the direction of professional learning and educator licensure in various states, gathering information from states regarding the success and lessons learned using micro-credentials, and developing a sense of need for micro-credentials as a personalized professional learning pathway for in-service educators.  
Micro-Credentials are a digital form of certification indicating that a person has demonstrated competency in a specific skill, such as data literacy, teacher leadership, or growth mindset.
Rather than learning by watching, reading, or listening alone, micro-credentials promote learning by doing. Educators apply their learnings in their practice and collect evidence to demonstrate their competence.  Educators who earn a micro-credential are awarded a digital badge that they may share that showcases the specific competencies they have demonstrated.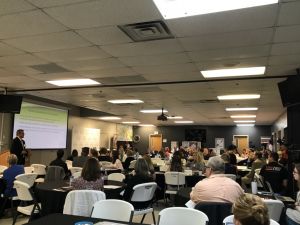 KVEC has been developing micro-credentials in collaboration with Digital Promise and supporting schools in developing systems for personalized professional learning that include micro-credentials.  Micro-credentials provide support and job-embedded learning as teachers in our area develop theories of action based upon identified problems of practice within the schools.
Participants of the summit interacted with dynamic speakers that included Matt Dunleavy, Executive Director, Innovative Mobile Personalized Accelerated Competency Training (IMPACT) Lab, Radford University; Machel Mills, Director, Professional Learning Systems, TN Department of Education; Gary Chapin, Senior Associate, Quality Performance Assessment, Center for Collaborative Education;   Jennifer Kabaker, Director of Educator Micro-credentials, Digital Promise; and Jennifer Carroll, Personalized Professional Learning Lead, of KVEC.
Participants were also able to hear first hand from practitioners involved in another KVEC initiative,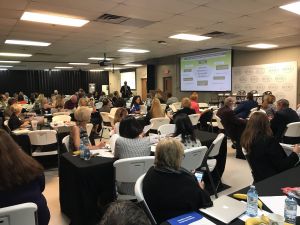 Activating Catalytic Transformation, who use micro-credentials as one strategy to address personalized learning needs of the school.  According to the panelists, these newly acquired skills are making a positive impact on the instruction in the classroom and increased learning for the students.  Panelists represented the schools of Breathitt, Floyd, Lawrence, and Owsley County School Districts.
Many participants were interviewed by Ron Daley in Fire Casts to describe the impact they see micro-credentials having on educator professional learning.  Those interviews may be found at the following link:
https://www.youtube.com/playlist?list=PLr6IrF7juP7_CXb7wF7H8vQqHMtw_JwUM
The event was recorded and may be watched in its entirety at theHoller.