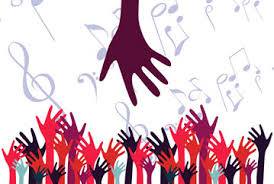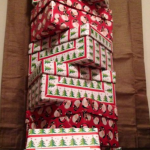 This is the season of giving and charity and a Letcher County Central High School student has set out to start a new local initiative to bring music to teens in need. Shoppers in Letcher County may notice boxes in their local stores and businesses around town this holiday season, wrapped in festive Christmas red and green paper, waiting to be filled with donations of music. "Tunes for Teens" has placed boxes throughout the county hoping for donations like CD's, earbuds, iTunes gift cards, CD players, etc.
This new initiative is being organized and ran by Letcher County Central HS student, Tristin Cunniff.  To raise awareness and post information for this endeavor he has created a Facebook page called Tunes for Teens, providing drop off locations and updates.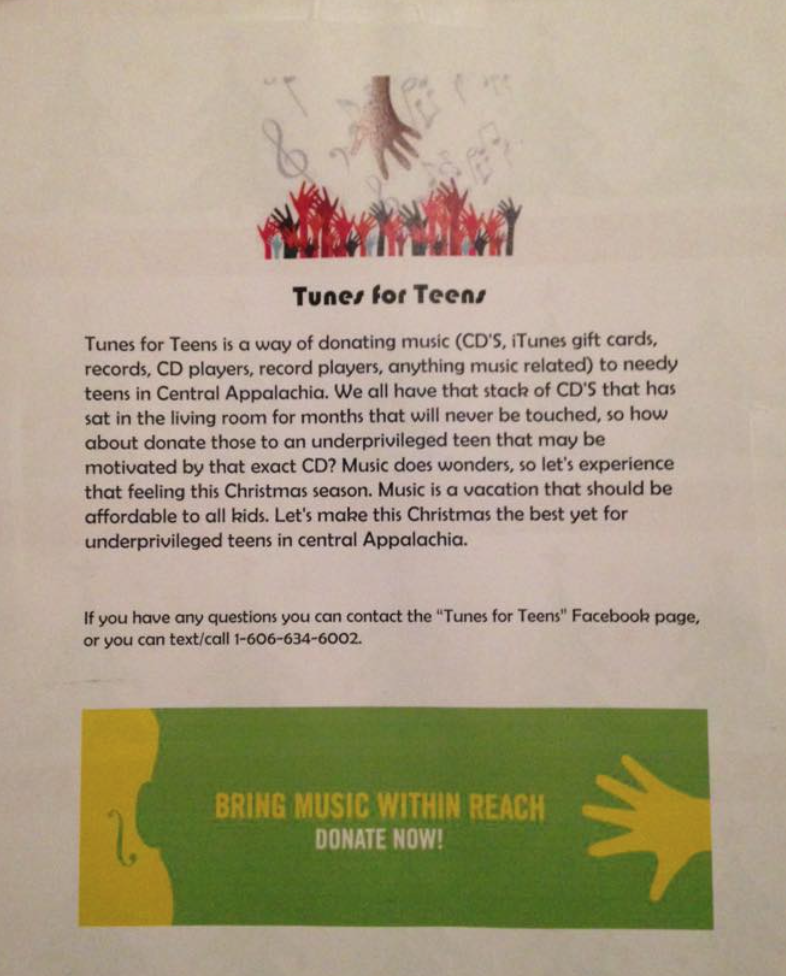 "Tunes for Teens is a way of donating music (CD'S, iTunes gift cards, records, CD players, record players, anything music related) to needy teens in Central Appalachia. We all have that stack of CD'S that has sat in the living room for months that will never be touched, so how about donate those to an underprivileged teen that may be motivated by that exact CD? Music does wonders, so let's experience that feeling this christmas season. If you have any donations you can message this page and I will meet you out, or you can give me a call at the provided phone number."
Cunniff says that music has been his main source of motivation in his life and that he wants to share that inspiration. "I'm aware of how powerful music can be, and how influential it can be in stressful situations, but unfortunately music isn't available to everyone out there. I began this project to simply collect music for the teens out there who do not have access to music and need it to help them throughout the day, because I can't imagine going a day without music, myself."
The response, he says, has been amazing.  Businesses in the area were excited to host donation boxes and people have been calling to ask how to help, he has even travelled to the neighboring state of Virginia to pick up donations that were called in.

Tunes for Teens, has already began working with the Letcher County Family Resource Center and will help decide who the donations should be distributed to.  There has also been a plan to donate some to the school therapist to use for music therapy, as a creative tool to help teenagers working through emotions or distress.
If you are in Letcher County you can find donation drop off points at the locations below or contact Tristin Cunniff on the Facebook page or at 1-606-634-6002.
Donation drop off locations are:
Appalshop
The Boone Drop In Center (across from the Appalshop)
Roundabout Music Company
The Parlor Room- Fine Art & Custom Tattoo
Harry M. Caudill Public Library
Whitaker Bank
Summit City Lounge
Heritage Kitchen
Letcher County Central High School
StreetSide Grill & Bar