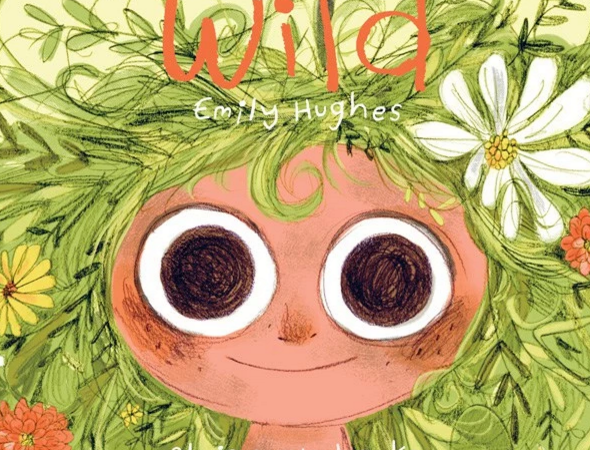 If you have a tiny free spirited child in your home, Wild is the book to delight their imagination.  It's a fun and whimsical take on what it means to go against the rules of the "everyday" world.  In an inspiring and beautifully illustrated story, author Emily Hughes, doesn't want to tame your tiny wild child. Instead she celebrates what it means to march to the beat of your own drum.
"No one remembered how she came to the woods, but all new it was right.
The whole forest took her as their own."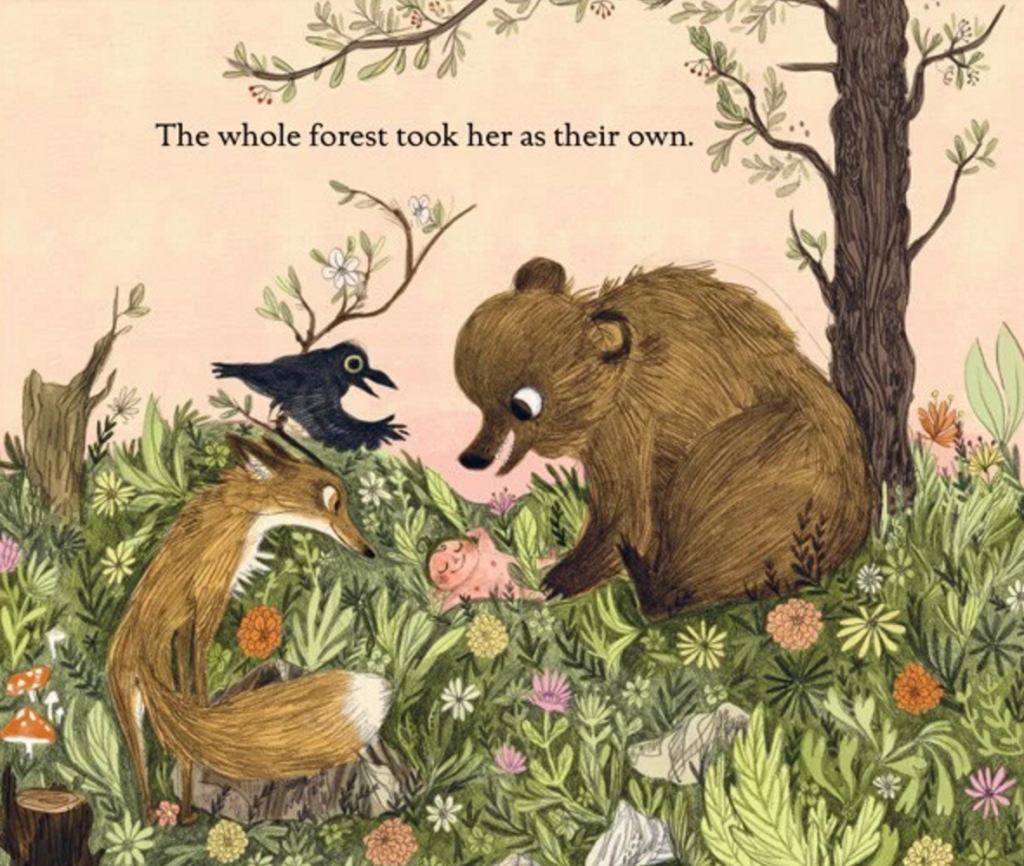 Hughes, the Hawaiian born artist opens her debut children's book with the story of a baby girl left in the woods with only animals there to look after her.  Without skipping a beat the entire forest takes in the small baby and raises her as their own.
"Bear taught her how to eat. Fox taught her how to play."
Hughes' beautiful illustrations take us on a journey of a baby learning how to thrive in the wild.  Pictures leap off the page as she grows.  With flowing hair and big happy eyes, she learns from her woodland family.
"And she understood, and was happy."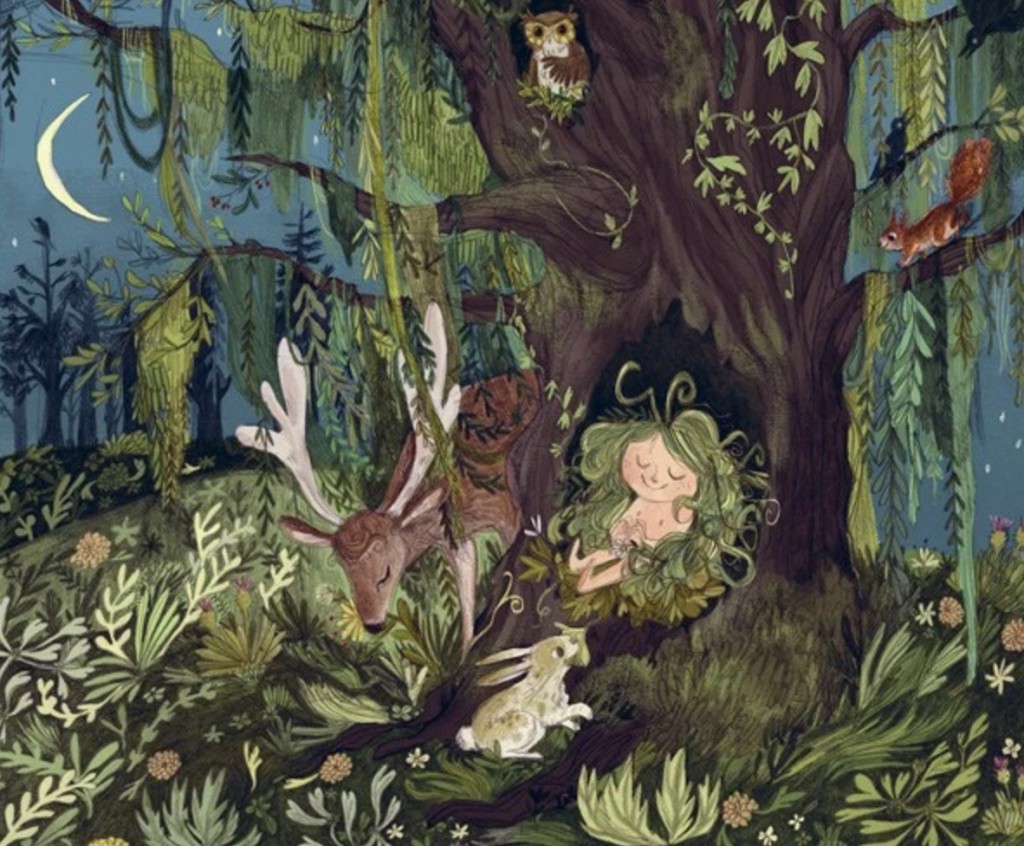 The forest imagery is lush, green, and inviting.  Often the woods are used in children's stories to represent fear or darkness, but in Wild it's home and home is a place of love.
"One day she met some new animals in the forest…
They found her strange…
…And she found them strange too."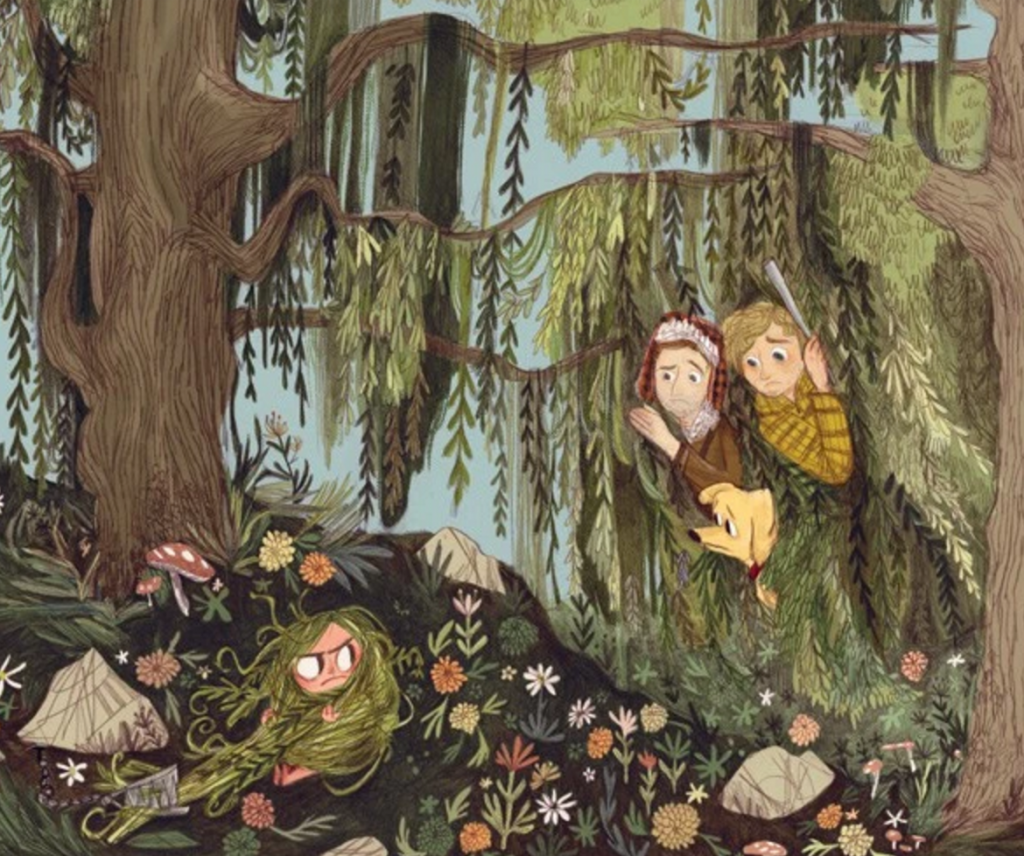 Soon our tiny heroine is discovered by animals of her own kind, humans.  Believing they know what is best for her they take her back to live with a couple.  Hughes' illustrations leave a deeper story for the parents in ways that small children will not pick up.  While they'll understand that she has gone to live with a human couple, you'll discover through the art that one of her new parents is a child psychologist.
"They did everything wrong. "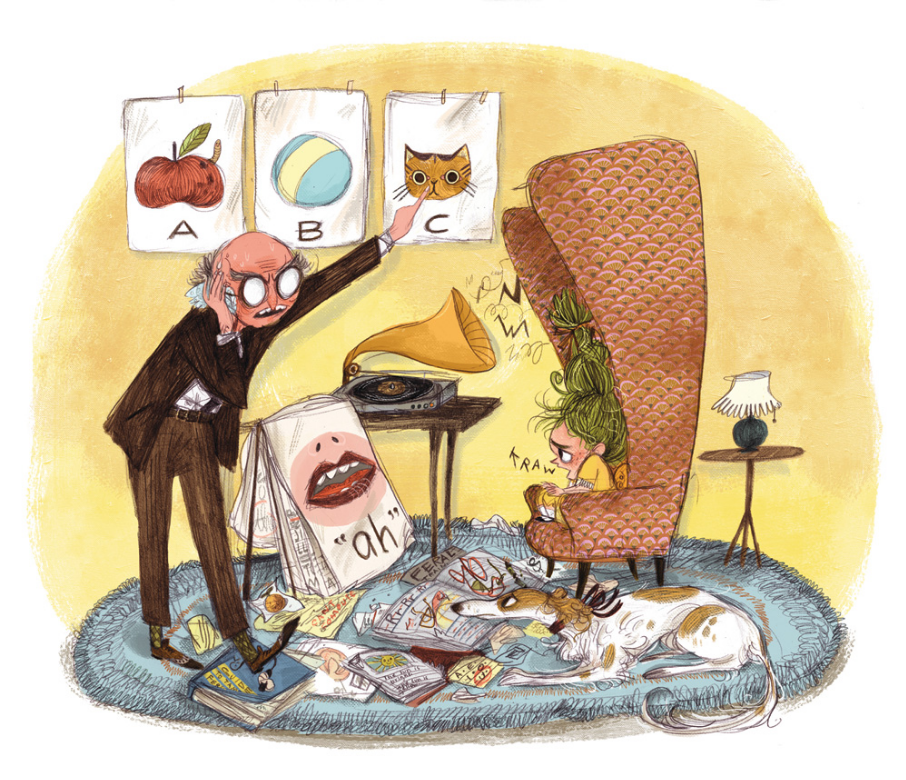 As her new caretakers work to tame her she grows increasingly unhappy.  She doesn't speak like them, dress like them, play like them.  The only ones sympathetic to her are the house pets.
"Everyone remembered how she left, and all knew it was right."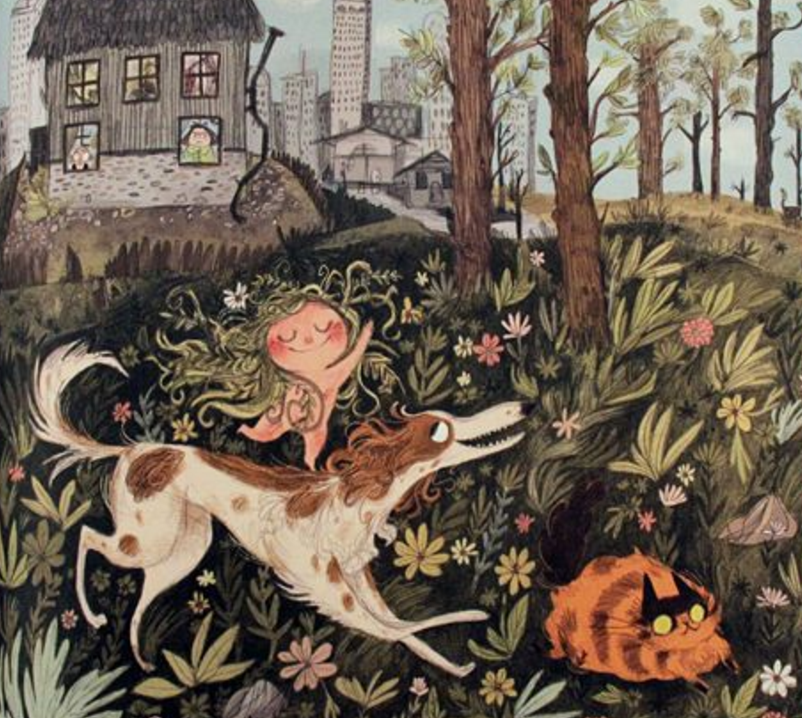 Page after page we see the wild little girl's eyes as she struggles to fit in, but when she leaves to go back to the forest with the house pet's by her side she looks peaceful, happy.
"Because you cannot tame something so happily wild…"
Often we use children's stories to teach our young ones how to adapt and settle into the routines of our daily lives.  While those stories have and serve a purpose well, I do believe that this book is a lovely way to celebrate what childhood is- a time to play, be imaginative, and to indulge in the fact that you don't have to be tame all the time.
This is an also an opportunity to let your tiny reader know that it's ok to be different and unique.  Fitting in doesn't always mean happiness.  Sometimes happiness is very simple, and we over complicate it. Let this story be the book that you read after playing in the rain, learn to climb a tree, or just spend the day outside enjoying the weather.  This is the book to celebrate the days when you don't have every moment planned, but lifetime memories are still made.
The Author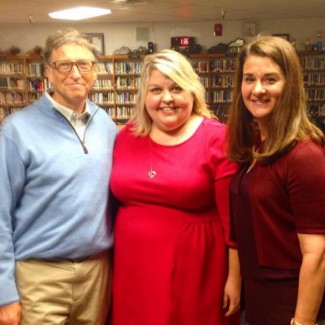 Foster mom, instagram enthusiast, and pretend professional baker.